With the NBA season ready to begin as soon as a new Collective Barganing Agreement is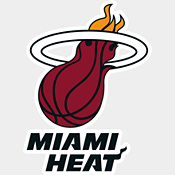 enacted, the gambling projections have began to filter in from Las Vegas.
And wouldn't you know, the Miami Heat, who lost in last seasons finals, are the early favorites to win the 2012 NBA title.
MGM Mirage race and sports director Jay Roodtells the Los Angeles Times the Heat are his 2-to-1 favorite. Next up, at 9-to-2, are the Lakers and the Chicago Bulls. The Oklahoma City Thunder check in at 5-to-1.
Jay Kornegay, director of the Las Vegas Hilton Race and Sports Book, also has the Heat as 2-to-1 favorites, and lists the Bulls at 6-to-1 and the Lakers, Thunder and Dallas Mavericks all at 7-to-1.
One team which isn't mentioned is the Dallas Mavericks. You know, the defending champs. Even the San Antonio Spurs aren't mentioned after they finished with the best record in the West and have 14 players from last seasons team returning next Friday.
The Heat, Bulls, and Thunder are all good picks by Vegas because each team has its core still in place and in each teams case, a veteran free agent guard, forward, or center will be very intrigued to join one of those teams at a smaller price.
The Lakers are the odd team of the bunch as they'll have to learn an entire new system and team philosophy with Mike Brown taking over after Phil Jackson retired.