If there wasn't a lockout, we'd be through the bulk of free agency now and all of the Project
Spurs staff would be having fun looking forward to the San Antonio Spurs roster going in to training camp. Several of us would also be paying 10 bucks to watch all of the Vegas Summer League Games online while Project Spurs Editor – Jeff Garcia – is watching them live in Vegas. Instead I was stuck trying to figure out what to write when my brother Evan said how about, "What if the Spurs would've signed Jason Kidd way back when?" Genius. Let's do it.
So it's Father's Day in 2003 when the Spurs defeat the Nets in Game 6 of the NBA Finals, thanks to Tim Duncan's near quadruple double and some nice play from David Robinson and on his way to crazy Stephen Jackson. It may have been the greatest night as a Spurs fan in the 25-40 age range because you saw the official passing of the torch from Robinson to Duncan. To top things off, the Spurs had a boat load of cap space go after a big name free agent, most notable Jason Kidd, the point guard they just beat in the Finals.
The Spurs went after J Kidd and went after him hard. They almost got him too. Kidd chose to stay in New Jersey, in part because his then wife was on her way to being a media starlet in New York and because, as he told the Dallas Morning News in 2009, he wanted to try to win a title on his own as the number one guy.
In that same interview, Kidd admitted he made the wrong decision, adding he'd probably have at least a couple of rings by then. You're right, Jason, you definitely would've had a couple more rings, probably three. In fact, I'd argue the Spurs would've won the NBA title the next two seasons. Here's what Kidd's numbers looked like in 2003-2004 and 2004-2005:
'03-'04: 67 games played, 15.5 ppg, 9.2 apg, 6.4 rpg
'04-'05: 66 games played, 14.4 ppg, 8.3 apg, 7.4 rpg
Not bad, right? Exactly what you want from your point guard. You're probably looking at those 15 and 16 games he missed in those two season. It's true, Kidd had some injuries those two years that kept him from being as good as he was in 2001-2002 and 2002-2003, but he got healthy and stepped his game up just in time for the playoffs. Unfortunately for Kidd, the Nets only got worse. But Kidd got healthy after '04-'05 and perhaps had his best playoff run in '06-'07, where he averaged a triple double and led a 41-39 Nets team to game six of the second round before bowing out to the eventual Eastern Conference Champion Cleveland LeBron's:
'06-'07 playoffs: 12 games played, 14.6 ppg, 10.9 apg, 10.9 rpg
Simply incredible. A Spurs trio of Duncan, Kidd and Ginobili would've been incredible for that five year stretch.
So what about Tony Parker. He was 21 years old, was the starting point guard on an NBA title team and used his quickness to outmatch Kidd in a couple of those early Finals games. But there were also times where Pop called on Speedy Claxton to close out games against the Nets. What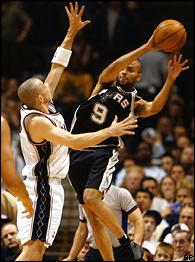 would've become of Parker had the Spurs signed Kidd? We know they had the money to sign Kidd without having to do a sign-and-trade with New Jersey. So does that mean Tony would've become Kidd's backup? Perhaps. They definitely could've played together for stretches, Kidd is big enough to guard most 2's. But with the retirement of David Robinson, the Spurs had a gaping hole at center. The obvious solution would've been to trade Parker for a starting center.
Parker was actually worse his 2003-2004 season then he was during the 2002-2003 campaign. His points, three point percentage, overall field goal percentage and Player Efficiency Rating all took dips while his assist totals barely rose. 2004-2005 was much better for Tony and especially during the regular season you could tell he was making that leap from good to really good. However, his numbers in the playoffs dipped from 18 ppg down to 14 ppg and his assists dropped from six to four. He was especially bad against the Pistons during the Finals. He struggled to break down the Pistons' defense (not an easy task for anyone) and was so bad trying to cover Chauncey Billups that Pop had to switch him on to Rip Hamilton mid-series (chasing guys off of screens suits Parker better then isolation situations anyways). I would even go so far as to say the Spurs beat the Pistons that year in spite of Tony Parker.
After the 2003 title, Parker still had two years left on his rookie contract and considering how well he was thought of around the league, Parker could've netted a promising young center or high draft pick for TP. Or they could've signed someone like Alonzo Mourning, on the cheap, who at that point in his career probably could've provided the same defensive presence as Robinson did the last couple years of his career. But because it's more fun this way, let's play the trade game with Parker.
Among the starting centers around the league in 2003-2004, the most compelling names I found were Nene, Nazr Mohammed (no wow factor, but stay with me for a second), Samuel Dalembert, Tyson Chandler, Pau Gasol and Chris Kaman. I'll assume the Grizzlies weren't ready to give up on Gasol in 2003, so we'll scratch him from the list. If you trade TP to New York for Nazr, you're obviously asking for a draft pick back as well, same goes for Dalembert in Philly (A.I. and Parker running around the same backcourt would've been hilarious on defense by the way). But trading him to Chicago for Tyson Chandler, that could've been a nice deal. Same goes for Chris Kaman.
Here's something else to consider: The 2003 NBA Draft was one of the best in years. LeBron, Carmelo (I skipped Darko), Wade, Bosh, Kaman, Heinrich. The Raptors, picking five, and the Clippers, picking six both desperately needed a point guard. Could a Tony Parker for the fifth or six pick had been possible? Yeah, maybe. Imagine years of a Duncan/Kaman, Duncan/Bosh or Duncan/Chandler front line. It's everything I think every Spurs fan has wanted for several years now. Also, Kidd would've been the first true point guard since Rod Strickland threw that turnover in Portland during the 1990 playoffs that killed a really awesome Spurs team (Strickland, Willie Anderson, Sean Elliott, pre-knee injury Terry Cummings and David Robinson).
This was mostly a futile, but fun exercise and it mostly just shows how fortunes change based off of one player's decision. The Spurs did great without Kidd, but it's always fun to think what could've been, especially when you remember that this happened during the 2001 All-Star Game (1:20 mark).