Here is yet another sign international guard Nando De Colo could be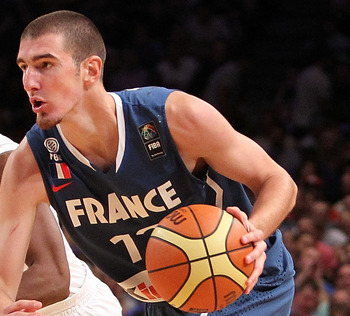 working his way to the NBA and joining the San Antonio Spurs next season.
De Colo's current team's (Valencia) Vice President, Paco Raga, spoke on whether or not De Colo will be heading to the NBA (via TuBasket.com) and stated he thinks De Colo is NBA bound.
I think he is going to the NBA. We will make an offer for him to stay but everything has a limit but I think he is determined to go to the NBA and there's nothing we can do.
Earlier this month, we reported that Nando was all but certain to join San Antonio this summer, however, a later report would state there is no deal set to bring over the standout guard.
The Spurs selected Nando in the 2009 NBA Draft and he will be playing for the French national team this summer at the London Olympic games along with Spurs' Tony Parker and Boris Diaw.
He will miss a chance to play with the Spurs' Summer League squad, seeing how he will be training for the Olympics, however, playing with and against established NBA players in London will help him should he definitively join the Spurs next season.
Got to like De Colo's determination to play in the NBA but what do you think Spurs fans? Is Nando ready? What do you like and dislike about his game?