San Antonio Spurs center Tiago Splitter and Brazil got off on the right foot on the first day of the FIBA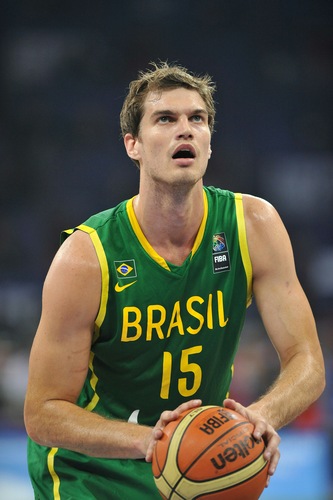 Americas Championship in Mar del Plata, Argentina.
While Venezuela looked like they might steal a game, Brazil went on a run at the right time and stepped up their defense to beat Venezuela 92-83 in a very entertaining game.
While Venezuela leaned on Grizzlies guard Greivis Vasquez through most of the game, when he was subbed out in the third quarter, Venezuela's offense collapsed while Splitter and Guilherme Giovannoni led the Brazilians on a run.
When Vasquez was re-inserted, it was too little too late and Brazil coach Ruben Magnano called for traps and double-teams to frustrate Vasquez.
Venezuela got within striking distance on a three-pointer to bring the gap to within one point 81-80. But on the ensuing possession, Brazilian guard Marcelo Machado answered back with his own three and Brazil never looked back.
While Splitter is expected to play a much bigger role for Brazil without Nene, Anderson Varejao or Leandro Barbosa, Magnano relied on a team effort instead of leaning on his core players like Eric Musselman did with Vasquez.
Splitter scored a very quiet 17 points to lead Brazil in scoring. He also finished with 11 rebounds and two blocked shots, one of which came at a very pivotal point in the fourth quarter to stop a layup and end a run by Venezuela.
One thing that stood out with Splitter playing for Brazil was that he let the game come to him and played within himself, whereas he would try to force it with the Spurs and looked overeager at times. His teammates have several years of playing with him, so it was not to any surprise that Splitter ran the pick-and-roll to perfection like he did last summer. When he wasn't freeing up his teammates with jumpers, he slipped the screen and received a pass for an easy two points.
Seeing him run the same pick-and-roll in San Antonio, often teammates would not take the screen and rarely fed him on the slip. If his Spurs teammates utilize him the way his Brazil teammates do, he could very well be much more effective.
Vasquez led all scorers with 26 points, seven assists and four rebounds. Former Spurs guard Alex Garcia scored 15 points for Brazil.
Next up, Brazil plays Cory Joseph and Canada tomorrow. Manu Ginobili and Argentina will play tonight against Paraguay. Paul Garcia will have a full recap following the game.