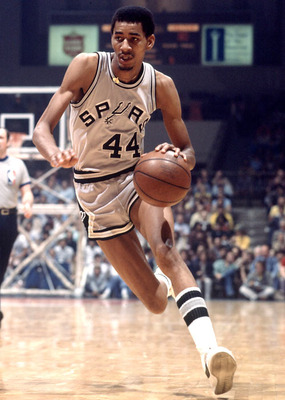 While the FIBA Americas tournament started today and Eurobasket starts tomorrow, San Antonio Spurs fans will have yet another thing to cure their basketball withdrawals.
Starting today, NBA TV is airing a series of classic playoff games dubbed "Playoff Gems on NBA TV." They'll air three games today, tomorrow and Thursday and one final game on Friday.
Among the games selected for airing in the Hardwood Classics series is game two of the Spurs vs. Nuggets 1985 first round series.
That season marked George Gervin's last in San Antonio, and this matchup pitted the "Iceman" against another prolific NBA scorer in Alex English. It was a scoring battle that saw Gervin emerge victorious, pouring in 41 points in a close win.
Relive Gervin's 41-point night and marvel at the finger-roll once again when the game airs tomorrow night at 7 p.m. CST on NBA TV.