In 1993, Sean Elliott was traded from the San Antonio Spurs to the Detroit Pistons in exchange for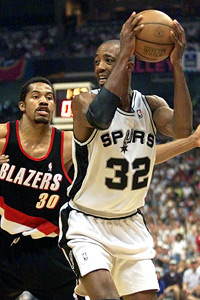 Dennis Rodman. Elliott would go on and play one season with Detroit but never did quite fit in while Rodman helped the Spurs reach the playoffs but like Elliott, never did fit into the culture of the Spurs and his off-the-court antics would ultimately have him shipped off to the Chicago Bulls.
And although Elliott would eventually be traded back to the Spurs in 1994, he nearly was traded to the Houston Rockets.
The Pistons were set to send Robert Horry and Matt Bullard to the Rockets for Elliott but Elliott failed a physical and the trade was canceled.
That failed trade frustrated Elliott so much, he nearly retired early in his career.
Elliott explained that he spent the first four years of his career in San Antonio, was traded to Detroit in 1993, and never fit in there. When the Pistons shipped him to Houston, he rejoiced, and when he failed the physical he nearly retired out of frustration.
And it's a good thing Sean did not end his playing days early.
Imagine if Elliott had retired in 1994. He would have never hit the memorable "Memorial Day Miracle," missed out on capturing an NBA title with San Antonio in 1999, become the first-ever player to return from a kidney transplant and play in the NBA, have his jersey retired by San Antonio and eventually retire the way he should have, on his own terms and as a Spur.