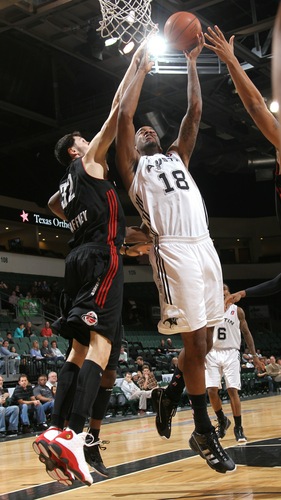 Though there isn't an NBA season set just yet, there definitely will be a D-League season in late November.
The San Antonio Spurs' D-League affiliate Austin Toros have announced forwards Leo Lyons and Lance Thomas will be returning to the team for the 2011-12′ season after they finish training camp for the Pan-American games later this month.
Last season, Lyons averaged 14.9 points per game, grabbed six rebounds, and shot over 48% from the field in 30 minutes of playing time per contest.
Thomas averaged 12.6 points per game, 5.5 rebounds per game, while shooting 50% from the field in 30 minutes per contest as well.
As the NBA continues to stay in the lockout, D-League basketball may be the only form of basketball that the American audience will get to see.
If you're are a Spurs fan looking to catch some hoops, the Toros are a great team to watch and they're located very close to San Antonio in Austin, Texas.
(Photo:CDN.net)