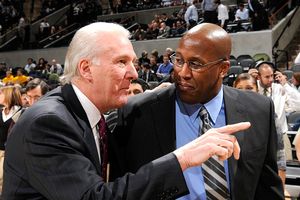 Esquire Magazine recently chatted up former San Antonio Spurs assistant coach Mike Brown about everything from his future as Los Angeles Lakers head coach, growing up overseas and his experiences coaching in Cleveland.
During his interview, Brown mentioned Spurs coach Gregg Popovich, one of his coaching mentors.
Pop [San Antonio coach Gregg Popovich] has the uncanny ability to connect with people. He can make the fifteenth player on the team feel like he's just as important to the team as the starting center.
Popovich has always been known to treat everyone on the team the same, never playing favorites, something we'll likely see from Brown in dealing with everyone from Kobe Bryant to Derrick Caracter.
While Brown's coaching career in Cleveland was cut short, Brown said it gave him a chance to connect with his sons, even waking up at 6:00 a.m. to do some work on the court with his son.
If that wasn't the silver lining in his firing with the Cavs, succeeding Phil Jackson in Los Angeles surely is.