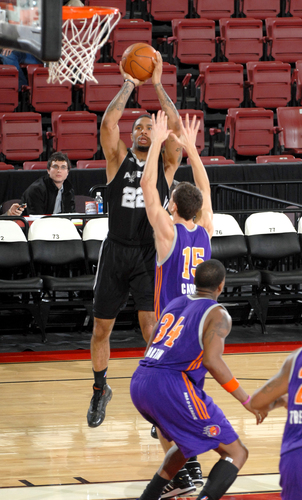 It seems like just the other day Toros Nation co-founder Jeff Garcia and I were telling Eddie Basden bon voyage before he left for his upcoming season with the Philippines Basketball Association. What a difference two weeks can make.
For those of you who don't know, and I'm going to guess it is the majority of the readers, the PBA has a height limit. Basden was released from Alaska Milk on Monday after measuring 6'4 ¼'', ¼'' above the limit. To put things in perspective ¼'' is equivalent to the diameter of a straw or ballpoint pen.
Basden has yet to confirm the situation of his contract though he has been getting paid since he signed back in September. A return to the NBA D-League would result in a significant pay cut, but would allow Basden to be within arm's reach of a 10-day contract.
Would the Austin Toros be the right team for Basden?
Though Basden would bring NBA experience to the Toros, the team is currently stockpiled at the 2 spot. With Aubrey Coleman averaging 14.5 ppg along with a pair of rebounds and Lewis Clinch chipping in 8.6 ppg there isn't room for Basden without moving someone around. Clinch started the season off strong putting up solid numbers before tailing off in January; however that's a story for another day.
A lot has changed since the last time Basden stepped foot on a court in black and silver. The addition of Coach Brad Jones has resulted in a different style of coaching. Something Basden may need time to get adjusted to. On the upside he has been a Toro before and has experience with the play book that has been shipped north via I-35 from the San Antonio Spurs.
It shouldn't be long before someone picks up Basden. We'll have to wait and see if he's still capable of producing the same results he produced with the Toros last season (12.6 ppg and 4.4 rebs).