Well folks, we now have another former Los Angeles Laker who is high on the 2013-14 Lakers squad.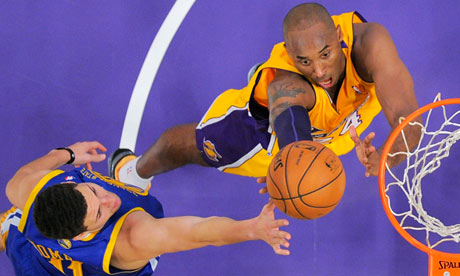 Former Laker Vlade Divac was recently asked for his opinion on his expectations for the Lakers this new season when this happened.
Via LA Times:
"The Los Angeles Lakers are an elite team and I'm sure they're going to do better than last year. It's not going to happen two years in a row to have a bad season," Divac told Express Sports. "The Lakers are going to be definitely one of those teams that can win the championship next year."
To his credit at least he didn't take the ultimate leap of faith like Metta World Peace did and put them in the Finals.
Now Kobe Bryant's individual talents cannot be disputed, but with his recovery from knee surgery and also dealing with an Achilles heel injury, the Lakers will have a rough time this season.
Add the fact they lost Dwight Howard, good or bad, he still was a presence in the paint, have an aged Steve Nash, a often injured new center with Chris Kaman, a shoot-first player with Nick Young, and a head coach – Mike D'Antoni – who has never won when it counts and one has the makings of a sub-par team not capable of capturing the NBA crown this season.
Can they sneak in the postseason at spot eight or seven? Sure but in conference with teams such as the San Antonio Spurs, Oklahoma City, Houston, Golden State, the Clippers, and a rising Minnesota squad, no way the Lakers will even sniff the Finals.
Now I have been a Divac fan since the days he was learning to speak English while watching the Flintstones, but I have to say "Not So Fast My Friend".
So Spurs' fans, how absurd do you view Divac's statement to be?