For a short time, Coach Pop called him his new favorite San Antonio Spurs player, but after being cut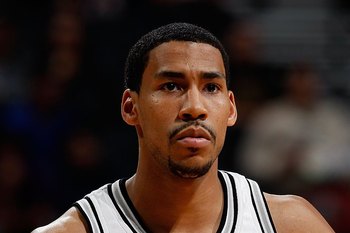 and bouncing around both the NBA and the D-League, Garrett Temple is headed for Europe.
Charlotte Observer NBA writer Rick Bonnell reports that Temple, who finished last season as a member of the Charlotte Bobcats, is headed to Italian team Casale. The deal will be for one year and does not have an opt out for when the lockout ends. One might think the Temple is headed overseas because of the NBA lockout, but his agent Jeff Hamilton says it's more about playing time then anything else.
"We were not actually pursuing overseas, because we felt he had such a good situation in Charlotte," Hamilton said. "But this will let him really focus on what he needs to do to be a rotation play, and that's play steady point guard."
Temple spent the second half of last season backing up D.J. Augustine and Shaun Livingston and couldn't get consistent playing time. There was a time two seasons ago when Temple started a few games for the Spurs and played well enough that it looked like he might become the second guard off the bench behind George Hill. But an ankle injury, combined with poor play at training camp and some guy named Gary Neal made Temple expendable.
Funny how everything can change in a season though. Temple may have been the perfect affordable extra back up point guard for the Spurs, especially considering his defensive abilities. On the bright side, Temple will be able to spend time where he'll hopefully get some steady playing time and be able to come back to the NBA a year from now a more polished, confident player.