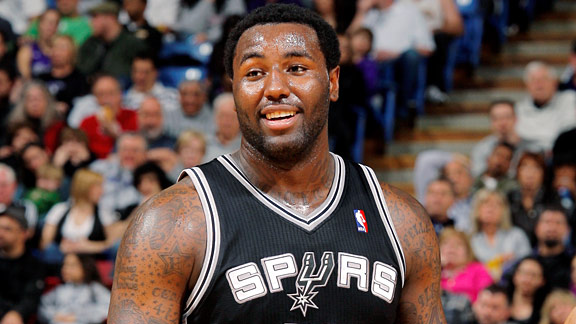 In a piece by Mike Monroe of the San Antonio Express News on Thursday, San Antonio Spurs General Manager R.C. Buford made an interesting comment regarding one of the team's possible-only disgruntled players, forward DeJuan Blair.
"We understand the way he feels," he said. "If we were in his shoes we may feel similar. Having said that, DeJuan helped us win a lot of games and we have not had anything presented to us that puts our team in a better position than moving forward with DeJuan."
As I wrote back in early July, when most of the Blair trade rumors began to surface, the Spurs have three options to make regarding Blair. They can either keep him by giving him another chance in the rotation and hope his new athletic build leads to success on the court, trade him, or release him by early January because he's on a non-guaranteed deal for the final year of his contract.
Blair has really put in a lot of effort over the summer, and as our own Jeff Garcia wrote Thursday; Blair is in a contract year. But, Blair also continues to moan and groan about his situation publicly as he released some recent Tim Tebow related comments.
My take, I think the Spurs will continue to shop Blair until the trade deadline, and even if they don't get an offer they don't think is worth trading Blair for, he's still a usable body to have on the roster. He'd probably finish the season and then become a free agent, similar to how the Spurs handled James Anderson's comments last season when a report said his agent told the team he was seeking a trade.
It's hard to predict what will happen to Blair, but in order for him to have a longer future with the silver and black, he'll most likely need to show he's added a 15-jumper and the ability to play consistent enforcing defense.