The San Antonio Spurs (47-10) will host the new look New Jersey Nets (17-40) at the AT&T
Center tonight. The last time these two teams faced each other, the Spurs won 102-85 in New Jersey. In that game, Manu Ginobili paced the Spurs with 22 points.
For the Spurs, they will be looking to maintain their league-leading record and continue their dominance over the Nets in San Antonio as the Spurs have won eight straight over the Nets in San Antonio. The game will give the Spurs their first look at new Nets player Deron Williams who will be making his debut.
For the Nets, it's also their chance to see Williams in action and hope to get some revenge on the Spurs. It will also mark the return of former Spur, now Nets head coach, Avery Johnson to San Antonio.
To talk about tonight's contest, I turn to fellow Bloguin blogger Victor Nash of Whoop De Damn Do. A great place for all things Nets and not to mention a great site name. Also, click HERE to read the Q&A I did for Victor.
In this Q&A, Victor talks about the recent Nets trade for Williams, Avery Johnson, how the Nets can beat the Spurs and much more.
Jeff: First of all I got to ask you about the recent trade to bring in Deron Williams from the Utah Jazz for Derrick Favors and Devin Harris. Your reaction.
Victor: As of right now, I'm ecstatic about the deal. The Nets, after much heartache over the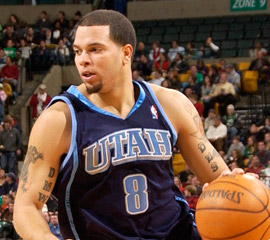 pursuit of Carmelo Anthony, were rewarded with a better player for basically the same deal, sans two first round draft picks. Williams is an obvious upgrade over Devin Harris and his youth as well as current superstar-dom puts him over Derrick Favors' potential. The Nets have a serious shot at contending if they acquire another All-Star caliber player (David West, anybody?) and are in a better position than they were before by all accounts. The only thing that worries me about the trades are the reports that claim that D-Will is unhappy. Williams is only signed through this season and the next, which indicates that this deal was a huge gamble for NJ. If Williams is clearly not content about being on the wrong side of the Hudson, the Nets could be on the wrong end off something similar to the previous Melodrama. However, let's stop with the pessimism for now. The Nets acquired a superstar in what is known as a superstars' league and are taking their first steps out of the rebuilding dome.

How has former San Antonio Spurs player now Nets head coach Avery Johnson been for New Jersey? Likes? Dislikes?
For me, Avery has had a pretty bad season as a coach. I originally praised the Johnson signing, thinking that he would be a great coach for a young team as a winner and a strict guy overall. However, this has completely backfired. He has managed to tick off Devin Harris, Troy Murphy, and Terrence Williams (all promising players) this season due to his commanding demeanor, making his reputation as a dictator coach more valid. Even Brook Lopez, who was thought to have made the next step as a player this season, has regressed. On top of that, Avery is also seen as a GM-like figure and has made many wonder whether Billy King is just a pseudo-GM, while Avery does all of the actual deciding. For me, the most disheartening fact is that Deron Williams clashed with Jerry Sloan, who isn't known for being an unfair coach. Mr. Little General is much less mellow (no pun intended) than Sloan, so one has to wonder whether our new star and Avery can coexist.

Last time these two teams met it was a 102-85 win by the Spurs in New Jersey. What will the Nets have to do to get a win in San Antonio?
It seems that the Nets' chances of winning are zero to none in this contest. Williams will most likely be playing in this one, but he would not have enough time to learn Johnson's system in time or learn the strengths and weaknesses of his new teammates. He needs to have a huge game Friday night in order for the Nets to stand a chance. Brook Lopez has to continue upon his success against the Spurs and will need a 20-30 point outing in this contest. In addition, for a miracle to occur, the Nets would have to somehow contain Manu Ginobili and Tony Parker. Both players give the Nets' tons of trouble whenever these two meet and if the Nets can take advantage of a rare off night from one of the two, a win could be possible (hey, we did beat you guys last year, right?).


Brook Lopez seems to give the Spurs trouble. For the series he averages 25 points and 11.5 rebounds per game. Why is he so successful versus the Spurs?
It's really perplexing as to why Lopez is such a dynamic player against the Spurs. Tim Duncan is a great defender and big forwards such as DeJuan Blair (he weighs 5 more pounds than Lopez despite being much shorter and he has more muscle mass than Brook) usually give Brook trouble. There is a tale of Two Lopez', though. Sometimes, Brook thinks he is a spot up shooter and tends to shoot from 16-23 feet out in an effort to prove this (he shoots 37% on 3.5 attempts per game from this area) and struggles to keep consistency when he is doing this. Other times, Brook actually realizes that he is a 7 footer and shoots from less than 10 feet in (he shoots 47.3% with 5 attempts a game) and is able to score over 20. My guess is that Lopez feels the need to use his creative post moves to draw fouls and score on easy buckets against San Antonio because the Spurs are a great team. As for the rebounds, it's more or less an anomaly. Lopez, as you might know, is probably the worst rebounding center in the NBA. It's very unlikely that he continues the 11.5 rebound trend against any team ever again.

Who wins tonight?
Definitely the Spurs. No question about that. The Spurs have been the best team in the league all season and there's no reason to think that a new Nets' team can adjust to the trade(s) quickly enough to take this one from them.