Is it fair to say right off the bat that the San Antonio Spurs won't win a title this year? Are we ready for that? Is that too un-politically correct for a Spurs site?
OK how about this: I'm more certain this season than I have been in any previous season that the Spurs will not win a title.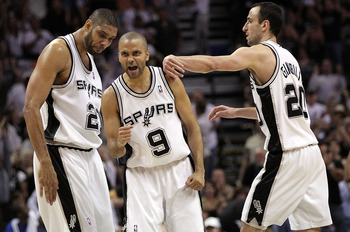 The reason for that is because their ultimate success would be contingent on two opposing factors: 1) the accelerated progress of the Youth Movement (George Hill, DeJuan Blair, James Anderson, Tiago Splitter) and 2) the continued consistent health of the Big Three.
Both of these need to happen throughout the season, but especially going into the post season. Understand, however, this is a catch-22; if the Big Three get hurt, the Youth Movement is forced to pick up extra minutes/shots/responsibility and as a result grows rapidly, but then the Big Three isn't healthy.
If Duncan, Parker, and Ginobili stay in the lineup consistently and avoid missing more than a couple of games, Youth Movement never picks up those large chunks of minutes needed to fertilize their rapid growth. It's possible for there to be another model for this – for the young talent to develop quickly and the veteran core stays healthy, but it's unlikely.
What's more likely is the Spurs rallying to 54-28 record, a first round victory, and a second round exit, probably to a team like the Oklahoma City Thunder.
You may be thinking, "What if both of these conditions are met?" "What if the Spurs young players make great leaps and Big Three stays healthy?" Oh, well in that case the Spurs are absolutely winning a title. . . fingers crossed?