If you're anything like me, you probably spent the day after the NBA Draft (and the many days leading up to it) searching out every piece of Victor Wembanyama content you could get your hands on. There's a ton of good stuff out there, like his interview with J.J. Redick, and then there's… well, there's Wembanyama's custom breakfast taco order: Corn tortilla, chicken, lettuce, cheese, red pepper, and sour cream.
Look, I'm all for following your heart when you order a taco, but perhaps Wembanyama is a little too free in the universe. There have to be some rules when it comes to ordering a breakfast taco!
That said, we at Fiesta Shorts are not here to pass judgment on a French 19-year-old for not understanding that a San Antonio breakfast taco is not the same as an item you'd find on the $0.99 menu at Taco Bell. If you asked me what my favorite French food was when I was 19 I'd probably tell you it was the Burger King Croissan'wich with bacon, egg, and cheese. (Fun fact: croissants are actually Austrian!)
What we will do at Fiesta Shorts is help educate the young man and guide him through some excellent breakfast taco choices. And because I haven't lived in Texas since 2011, I rounded some Spurs pals to help me come up with a list.
I now present to you… The Official Fiesta Shorts Guide to the Tacos Victor Wembanyama Needs to Eat!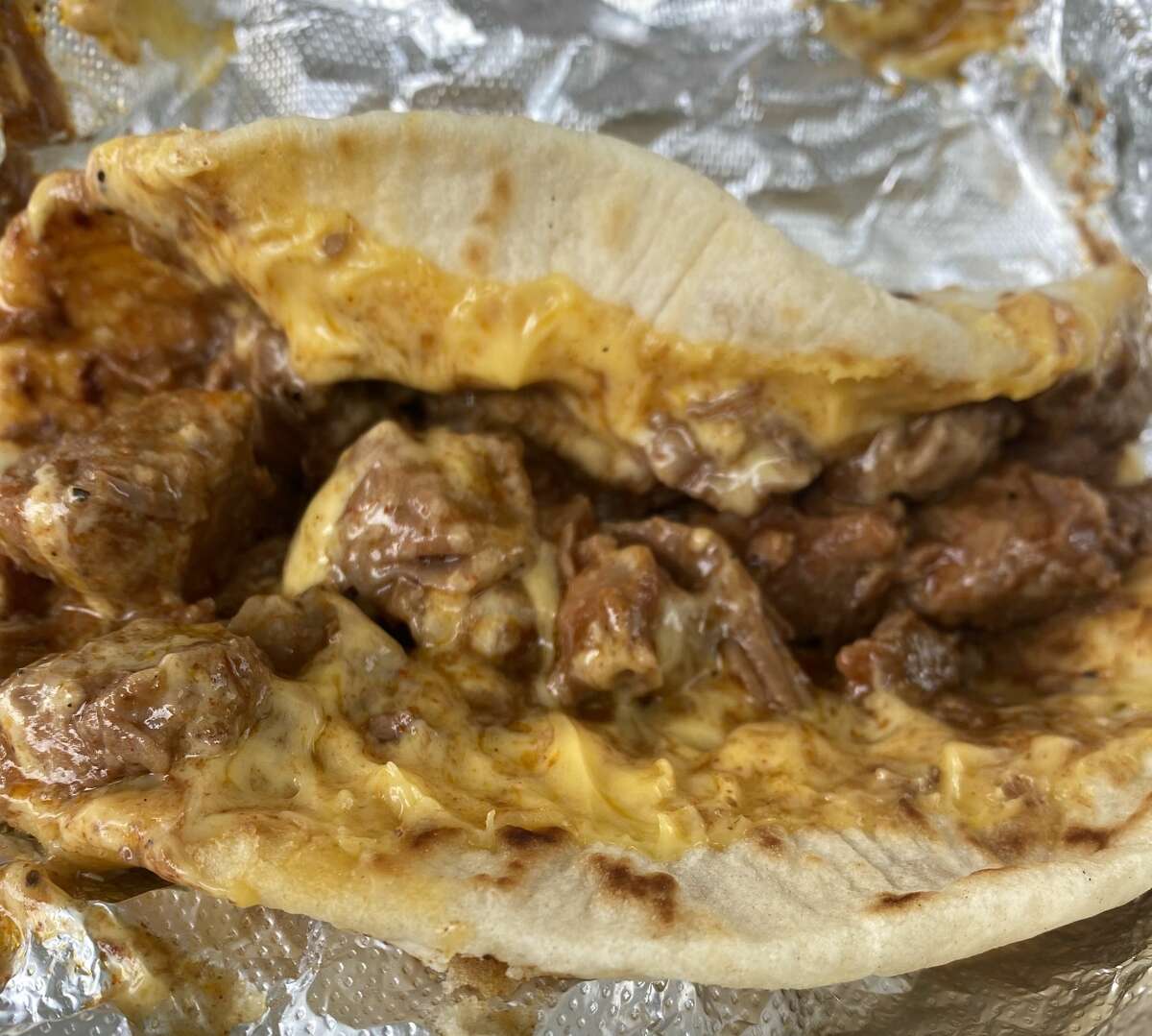 Trace: Carne Guisada with cheese
As a wee lad, my go-to order was bacon, egg, and potato. But one day, my dear friend Robby took me to what would become my favorite taco shop, Las Palmas, (This is probably the one and only thing I'll ever hype from Seguin) and introduced me to the majesty of carne guisada with cheese. Just as critical as the delicious stewed beef and cheese is the hot sauce. I prefer a red sauce with mine but I won't turn away the verde either. Pair it with a lemonade in a gigantic ice-filled cup and you're in for a magical time.
I texted my sister and she backed me up on the carne guisada with cheese, but she still has fond feelings for the bacon, egg, and potato from our childhood as well.
When I asked Matt about his go-to order, he replied, "carne guisada and country sausage and egg with cheese" and my jaw just about fell out of my mouth, crawled out my window, and dropped to the sidewalk below.
I wanted to say, "be still, my heart" but what would be the point? Finishing that entire taco would permanently still my heart before I could even speak the words.
Unfortunately, he later wrote me back and clarified that those were two separate tacos, carne guisada being its own order. I would like to see Wembanyama eat the monster breakfast taco, though.
For some reason I don't understand, I feel like this is the taco you would gravitate toward if you're the kind of person people describe as "a man's man." I don't mean anything positive or negative by this, it's just something I feel in my bones.
My non-sequiturs aside, this is a great taco. I didn't think to ask Ben at the time, but I feel like this taco pairs well with a variety of salsas which is cool because even if you order two of these (or more) you can still kind of feel like you're eating a different menu item by switching up the salsa.
Astute Spurs fans of taste and culture probably already know that Devon just published an article on breakfast tacos as well. I swear this was a coincidence. I slid into his DMs to coax a taco order out of him only to find out that those snakes at Pounding the Rock were already on top of it. (Kidding, of course! I love the PTR guys! The articles are very different, albeit very related and Devon – as usual – did a great job and on another unrelated note all this taco talk is giving me some real homesickness)
As I was saying, according to Devon, barbacoa and bean tacos are massively underrated. I have no choice but to believe him because I've never tried it and I don't recall any of my friends ordering it either. Just another thing to add to my "next time I'm in San Antonio" agenda.
Quan, Equanomics: Sausage, egg, and cheese taquito from Whataburger
I know this is probably a little bit out of bounds, but we're talking about the man who had his sister-in-law order him a honey butter chicken biscuit from the Phoenix airport Whataburger and deliver it to him in southern California when she came to visit. Never before in my life have I seen a man so happily eat a six-hour old sandwich. You think this man is lining up at the local tia's hole-in-the-wall?
This is the guy who used to research the Whataburger menu leading up to a podcast recording and riff a fake advertisement for the W in between segments. Quan's a Whataburger man, through and through. Love it or hate it (as all things Quan tend to go), he's not wavering on the choice he made.
The real story here is that I learned Josh doesn't eat eggs, which is kind of a limiting factor in the breakfast tacoverse. Of course, my go-to doesn't involve eggs either so it's not that limiting!
Josh also noted that his wife is a big fan of the bacon and egg from Mimi's Barbacoa Tacos Tamales y Mas and that Mimi's has incredible salsas. As we know, the salsa is a key component to your taco, however you order it, so this is important information for Wembanyama to consider.
I'm having a hard time getting over the fact that Mimi's didn't put a comma anywhere in that restaurant name but as a person who purposefully employs run-on sentences as often as possible, I need to come to peace with that.
Our self-described "super basic" social media expert claims that you'll get consistent greatness from everywhere in San Antonio with either of these taco orders, but that he usually picks his up from Las Palapas.
We have no problems with the basics here at Fiesta Shorts. In fact, we'd go as far as saying those tacos are classics. Like the throwback San Antonio jerseys from last season, they're always going to feel good.
This is a specialty you'll find at the Laredo Taco Company. Why is it called The Q? Well, according to their website, it's named after "The Q, 94.5" radio station in the US/Mexico border town of Harlingen, Texas. 
Mac describes this taco as a classic bacon and egg with cheese, beans, and papas (seasoned Mexican potatoes). Sounds delicious. Like potatoes in a taco are already good, but papas style instead? Sign me up.
I hope you're hungry, Victor Wembanyama, because this is merely a small sample of the Tex-Mex treasures that await you. You will gain weight and you will like it. 
What else should Wembanyama put in his belly ASAP? Share your best San Antonio food recs with @projecspurs on Twitter.