Jim Boylen is the newest addition to the San Antonio Spurs coaching staff as he comes over from the Indiana Pacers. His addition to the Spurs staff will be valuable this season especially after losing Mike Budenholzer and Brett Brown.
Boylen is typically known as being a hard-nosed, tough coach who works with big men, but in this great piece by
Ken Rodriguez
, it talks about his roots and shows a little bit of his softer side.
Boylen was raised to be a hard worker and to do things the right way by his mother back in Michigan.
"I grew up with a midwestern work ethic."
"There were some lean times but we had a roof over our head. I had a praying mom and I've reaped a lot of blessings and benefits from her."
He also talked about his first job out of high school and how his typical day would go. He then used money from that job to help his mother pay for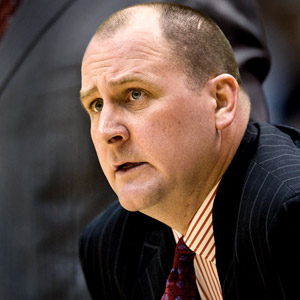 the rent.
"I would work from 11 at night 'til 8 in the morning. I would go home and have breakfast and sleep until 3. Then I'd get up and go hoop from 4 'til 6 or 7, go home, shower and go back to work."
"It was a way to gain maturity and responsibility toward the next step in life. You needed to pay bills before you moved up. I thought it was a great lesson."
Boylen's wife Christine has been by his side for the last 19 years and still likes to "support" him.
"I would go home after a big win and she'd have a list of things I needed to do better. She would critique every interview I did on TV. It was in a loving way and I respected that. But when my wife and mom were both in town, I knew I was going to take a beating when I got home."
Boylen's mother is also a big critic of his performance on the court.
"She would say, 'Watch your language! You are an example. Stay off the officials. It's not doing any good.'"
Boylen still sees his family as inspiration and is grateful for the beautiful wife and family he has. His blue collar work ethic will fit right in with this Spurs team and look for him to be a big contributor on the coaching staff this season.