The season is still very young but the Spurs have already frustrated some fans by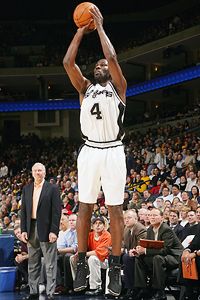 continuing to start Michael Finley and Matt Bonner. We've already discussed the pros and cons of starting Bonner, so it's only appropriate that we take a look at Finley.
This is Finley's fifth season with the Spurs, and all totalled he has started in 175 of his 325 regular season games with the Spurs. Most of those starts, 141 to be exact, have come since the 2007-2008 season. While Finley used to be an All-Star, top ten scorer, and dunk contest participant, he is now solely a jump shooter with a suspect defensive game. For these reasons, fans want Pop to sit the 36-year-old in favor of Roger Mason or Manu Ginobili. Like Jordan did with Bonner, I'll point out a few pros and cons about Michael Finley starting to help you come to your own conclusion.
Pros:
Finley had his best shooting season last year with a Total Shooting Percentage of 54.7%, the second highest of his career, and an Effective Field Goal Percentage of 53.2%, easily the highest of his career. He can no longer finish among traffic well but he does his main job, spot up shooting, better than ever. The Spurs benefit greatly from Finley stretching the floor for Tony Parker and Tim Duncan.
At his age and without as much athleticism as he used to have, Finley is not an energy player. Ideally the Spurs would like to bring a high-energy player of the bench to provide a spark to the team, someone who can provide much in limited minutes. Finley is not that player. In this regard he is better suited starting so that he can get in the flow of the game.
By starting Finley the Spurs allow themselves to use George Hill, Mason and Ginobili on a second unit that is one of the best in the league. Finley is best at playing off the ball and spotting up on the perimeter, something that fits better with a first unit that relies on Parker's drives and Duncan's post play.
Cons:
Finley was never known as a defensive presence, but his defense has only gotten worse. He is neither fast nor strong, and the premier shooting guards in the league can take advantage of him. Sure, he knows the Spurs system well but this only gets him so far when the Spurs are matched up against the top backcourts in the league.
Even though Finley had his best shooting year last season he is still very prone to cold shooting games. He tends to be a streaky shooter and when his shot is not falling it only takes valuable possessions away from Parker, Duncan and Ginobili.
As Finley has aged his offensive game has become more one-dimensional. He cannot create for others and is not consistent when driving to the basket, leaving the Spurs offense stagnent at times. If he is not hitting his threes then he is not worth much for the offense.
So here you have three pros and three cons to Finley starting. What should the Spurs do? Personally, I like having a backcourt of Ginobili and Hill coming off the bench to dominate and harrass other teams second units. However, I think Mason does everything Finley can and more. It's nice bringing a talent like Mason off the bench but Ginobili and Hill provide enough firepower that the Spurs can afford to put Mason in the starting lineup instead of Finley.
However, Pop has a love affair with Finley and it is impossible to predict what he will do with Finley. Do you think Finley should continue starting?