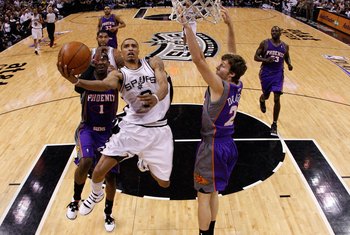 Official press release:
SAN ANTONIO, (Nov. 3, 2010) – Spurs guard George Hill will not play tonight at Phoenix. Hill is suffering from muscle spasms in his right trapezius after being fouled by Craig Smith in the second quarter of the Spurs 97-88 win over the L.A. Clippers on Nov. 1. Smith received a flagrant foul 2 and was subsequently ejected from the game.
Hill is "feeling better" but the San Antonio Spurs, to no one's surprise, have decided to err on the side of caution. Jeff McDonald reports Hill was thinking as if it would be a game-time decision, but the Spurs nipped that in the bud just moments later – no need to risk anything lingering for the fourth game of the season.
What can't help but linger are the images seared into the mind of this Spurs fan from the last time the Suns were the opponent. San Antonio looked old, beaten down and out of gas, as the Phoenix Suns ran pick-and-roll after pick-and-roll to the success of 4-0.
Nash and Dragic broke containment time after time and Hill was taken advantage of it seemed just as often. After having what was a break-out series against the Mavericks, Hill had almost as equally a disappointing series against the Suns – his redemption and-or ability to put Spurs' fans minds at ease after an off-season of improvement will haveto wait for another day; though his second-half defensive performance against Chris Paul in the Spurs' 90-99 loss the Hornets gave some reason for optimism.
What will be on display is if the Spurs have made any strides with regards to their frontcourt against the Suns small-ball attack. Because if Nash and Dragic weren't the first image seared into your mind as a Spurs fan, all of the switching and 3-point shots or jumpers that followed certainly were – Duncan's deterioration in mobility allowed him to be taken advantage of more than at maybe anytime in his stellar career (See: Hill, Grant). It should be interesting to see if the Spurs can take advantage of the Suns' penchant for spreading the court with smaller players and if they can match up when it's mandatory they go small; can the Spurs buy some time with Simmons at the 4?
An early-season outing and not too important in the grand scheme of things, but tonight's game should provide for decent gauge of the newcomers and their ability to help the cause and address last year's shortcomings – with Splitter, Anderson and Neal, two of the biggest areas of concern (pick-and-roll defense and 3-point shooting) are at least looking as if they've an opportunity for solid improvement.