Recently, it was announced that Denver Nuggets' head coach, George Karl, was diagnosed with throat and neck cancer. Unfortunately, this isn't his first bout with cancer. In 2005, he was diagnosed with prostate cancer and won that battle.
Though he does coach an opposing Western Conference team, Spurs fans must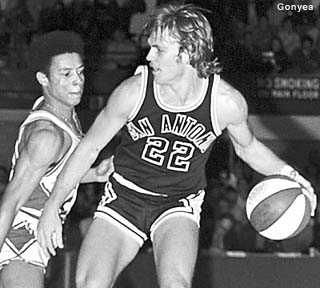 not forget, he began his NBA playing and coaching career with the San Antonio Spurs.
He signed with the Spurs when the team was in the ABA in 1973 and his NBA career began when the Spurs were absorbed into the NBA in 1976.  While with the Spurs, he averaged 6.5 points, 3 assists, 1.4 rebounds, shot 46% from the three-point line in 16.9 minutes for the Spurs from 1973-1978. His best year was the 1974-75 season, when he averaged 8.1 points, 4.1 assists, and 1.1 steals per game. It is funny, he considered himself more the ladies man than a basketball player while in the ABA. He retired from the Spurs in 1978 and began his coaching career with the team as an assistant coach.
That being said, he is a competitor and when it came to playing against his former team, he never held back. For example, in the 2005 playoffs and in particular, Manu Ginobili. Karl described Ginobili's game as "ugly," "hard to watch" and did not enjoy Manu's ability to draw the foul aka "flopping." But in the end, he set matters straight with Manu and said he was a great player.  Even this season, he was to the point about the reason the Spurs are having troubles on the court.
Karl is also close friend to Coach Popovich. They coached the 2002 USA Basketball Men's World Championship team. He has always remarked positively about
Pop's relationship with Tim Duncan, and pokes fun of Pop's approach to coaching since he has a no-nonsense superstar in Duncan. Recently, Karl and Popovich had fun with the topic of limiting Duncan's minutes and Pop's love of wine. And even when he is pointing out the the issues with this years Spurs team, he said of Popovich "(Gregg Popovich) has tricks, he can mess with you."
Karl has had many battles on the court but they pale in comparison to his second battle with cancer. Today he goes for surgery to insert a feeding tube.
We here at Project Spurs wish him a full recovery in his second fight against cancer and hope the Spurs play against him and his team for many years to come. And though he may be coaching the Nuggets, he will always be a Spur.