Tonight the San Antonio Spurs will face the New York Knicks in San Antonio, so who better to turn to than an NBA Bloguin Brother, LIVES from Knicks Fanatics Blog for a gameday Q&A. Check out the Knicks Fanatics Blog for some of the best NY Knicks coverage on the net. Why? Well imagine a young Pam Grier, Sophia Loren and Jayne Kennedy in an old-school Knicks dance team. So worth the read.
In this Q&A, I ask him whether or not Lebron James will be a Knick, he wished Spurs fans warned Knicks fans about Mike D'Antoni, and breaks it down on what to expect from tonight's game from the Knicks. All this and much more!
Are Knick fans still holding out hope that LeBron James will be with the New York Knicks next season?

To a great extent Knick fandom is in absolute disarray which is what happens when your
team is in absolute disarray and constantly losing.  Knicks fans are all over the place emotionally and intellectually. A few are still holding out hope against reality that New York is the ultimate destination for a basketball star regardless of money and the quality of the team.  I understand that even the team was still exploiting this hope by selling next year's season tickets as "LeBron Insurance." Yet, despite our longing optimism more and more New York fans are starting to see the reality over the marketing. LeBron James is most likely not coming to New York except to play a couple of games of horse against the Knicks and watch the Yankees.  
Mike D'Antoni. Your thoughts on what he has done for the Knicks and is he the right coach to lead this team back into the playoffs?
Ah, Mike D'Antoni.  Ye Spurs knew him well and were not neighborly enough to warn us.
Judge a coach by how he responds to pressure and difficulties, especially if he is the source of much of it.
Mike D'Antoni has suffered much under Donnie Walsh's 2010 plan which was really a concept more than a plan — the concept was to get under the cap and pretend to be competitive towards the playoffs.  Donnie had hoped (and so had I quite frankly) that while he dismantled the team and turned it into expiring contracts, D'Antoni would shape those contracts into an exciting up-tempo product for the fans.  The notion was that an exciting product would tide us over until we got to the summer of 2010 and seduced one of the big three — LeBron, Wade, Bosh.  Unfortunately, Donnie Walsh didn't really think this through when he hired a coach who skipped out on Phoenix because they lost confidence in his 7 Seconds of Less program and who avoided the Chicago Bulls because they doubted the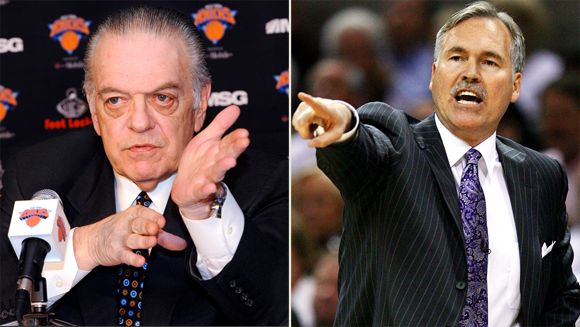 efficacy of his "a great offense=a good defense" strategy. 
In all fairness to Mike, Walsh has built this team on malcontents and bench retreads.  The majority of his non-draft personnel decisions, including hiring Mike D'Antoni, has brought in someone either at odds with their previous employer, a player rotting and brooding on an opponent's bench (Chris Duhon, Al Harrington, Larry Hughes, Tracey McGrady) or someone damn near retired  (Jonathon Bender, Cuttino Mobley, Tracey McGrady).   Mike also came into an environment where he did not have his type of players.  He was forced to work with Walsh in a ridiculously elongated effort to kick out Stephon Marbury.  He never really warmed up to Nate Robinson and he thought that David Lee was not fast enough to play his type of ball. So you can say he did not have the tools.
Regardless, D'Antoni's job was to coach these players and create a team.  He did not.  Under the stress D'Antoni has revealed himself as the wrong coach for this city.  Beneath that smile and usually friendly (but competitive) demeanor, he can be mean-spirited and short sighted. He plays favorites and does not treat his team as a team. He treats his select players as a team. In this case, his pets have been Chris Duhon, Wilson Chandler and Danilo Gallinari. Stubbornly sticking with Chris Duhon as his starting point was just sheer arrogance and stupidity if winning was his goal.  His management of Nate Robinson, one of his most skilled players, was appalling.  His team's lack of defense is even more appalling and he very readily blames the players for his lack of preparation and his poor coaching. 
David Lee. I seriously love his game and was glad he was an NBA All-Star this year. Will he be out of a Knicks uniform next season?

I believe the main reason the Knicks worked so hard to clear so much cap space was not for a second max player.  Management was working on a math problem which indicated they did not have enough space to build a team AND get a high quality max free agent.  Without that flexibility, the Knicks would be unable to make a run at David Lee whose rights they are probably going to renounce in order to open their options.
I don't know David Lee, but lately he has been vocally frustrated at the criticism of his defense and it seems that he is tired of being blamed for D'Antoni's poor defense.  Lee knows he can get better, but he also understands that he is playing out of position every night at the five spot. For the Knick's David Lee at the five is suicidal, if not out right stupid.  Lee is right, he should not play the five night in and night out, but he does do an admirable job sometimes, especially when he has help,  the guards are rotating and staying in front of their man, and the team is communicating as a whole.  My bad, that usually doesn't happen.
Seriously, if I am David Lee, I leave the Knicks.  Mike D'Antoni has mis-used him and the Knicks did not treat him as he would have liked over the summer.  Although they gave him a larger contract than they were technically obligated to, it contained a bonus for the playoffs which the Knicks did not give him a real chance to achieve.  He should be pissed and they should give him the bonus anyway.  He has been a loyal soldier through horrid regimes and he has developed a new aspect of his game every year.  Many Knicks fans don't like him because of his lack of defensive skills and intensity, but I would not be surprised if he developed that part of his game over the summer.  I think any team that is really a team would love David Lee. He's a real baller.
What is the key match-up for Spurs and Knicks fans to watch out for tonight?
I'm not sure there is one key match-up since the Spurs, more than most teams, play as a unit not a collection of individuals.  I would focus on two different match-ups: David Lee against Tim Duncan and the opposing backcourts, Manu Ginobli and George Hill against Sergio Rodriguez and Toney Douglas.  If the Spurs run and pound the ball inside, I will go to sleep early tonight.  If Douglas and Rodriguez can run at all and keep the Spurs backcourt squeaking its heels on both ends of the court, I may go to sleep late and happy.  
 
What can Spurs fans expect to see from this Knicks team tonight and if you were coaching, what would your game plan be versus the Spurs?

Their are three keys, beyond showing up, to beating my Knicks.  The Spurs must play at least 2 1/2 quarters of solid defense, they must concentrate on scoring in the paint and not get lulled into trading treys and perimeter jumpers and they can dismantle and discombobulate the Knicks with up-tempo, fast break offense because the Knicks have no transition defense.  If the Spurs walk the ball up the court on offense, they can easily be at the mercy of our three point shooters. 
Spurs fans may get to see some spurts of great individual effort.  You will love David Lee's
mid-range accuracy.  It is gorgeous to behold.  You might get Al Harrington at his one-on-one best.  His array of face-up spin moves to the basket are very nice when he is not out of control. You will get to see the athleticism of Bill Walker, who we just picked up from the Celtics.  If the Spurs don't play good defense (see the man, see the ball), he will slip his opponent and add to his personal highlight reel.
Hopefully, you will see some solid play from our youngin's, Danilo Gallinari, Wilson Chandler and Toney Douglas. If Wilson Chandler stays off the arc, he is a solid player with a nice game — not dominant, but nice.  He needs a better defensive coach to take advantage of that athleticism. Hopefully, Gallinari is going to use these last few games to develop a game. He has talent to be more than a three-point set shot artist but he has been timid and needs the ball in his hand closer to the basket.  He is not practicing an array of mid-range shots and post moves to take advantage of mismatches.  For now however, if an opponent plays him close and is quick to the angles, he can easily disrupt Gallo. Toney Douglas simply needs time to play.  It's about time that D'Antoni gave him a real shot.