As many NBA teams are holding free agent mini camps in what is rumored to be the substitution method for the Las Vegas Summer League, the Los Angeles Lakers will be working out a former San Antonio Spurs player and a few Austin Toros players reports Scott Schroeder of RidiculousUpside.com.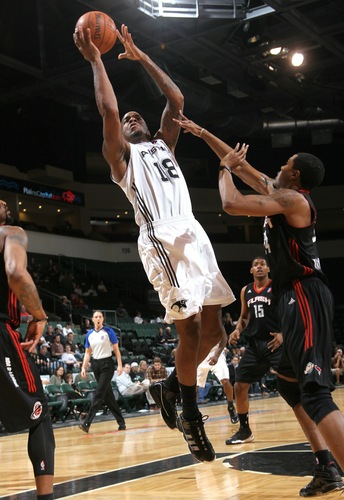 The Lakers will bring in Bobby Brown, Bobby Simmons, Kevin Palmer, Jamelle Horne, Steven Smith, Leo Lyons, Eric Boateng and J.R. Giddens for a look at a good cross-section of NBA veterans with a couple of hard-playing rookies thrown in for good measure.
Bobby Simmons began last season as a bench player with the Spurs, he would be cut just a few weeks into the 10-11′ season. Leo Lyons, Eric Boateng, and Kevin Palmer are all former Austin Toros. Though the Toros did not make the D-League playoffs, Lyons and Palmer were instrumental in helping keep the Toros as one of the most consistent teams in the D-League last season.
Lyons played in 34 games for the Toros and averaged 14.9 points, 6 rebounds, and shot 48% from the field. Boateng played in 40 games with the Toros, he averaged 4.9 points and grabbed 4.8 rebounds. Palmer played in 50 games with the Toros and averaged 12.7 points, 5 rebounds, and 1.38 steals per game.
Although these players are trying to wear the purple and gold uniforms of San Antonio's bitter rival, we wish them the best of luck in their pursuit of playing in the NBA.
(Photo: BleacherReport.com)