Buy: Richard Jefferson
Jefferson was the much-ballyhooed acquisition of the 2009 offseason. A career 20 point per game scorer with high field-goal percentages, you figured you could not pass on him in the bottom end of your draft.
But after a $15 million dollar, 12 point per game season, you knew not to make the same mistake this season.
You probably consider yourself a fantasy guru, you've likely finished in the top three of your leagues the past 5 years, you watch Rick Kamla's fantasy show every year just to balk at some of his choices or draft strategy. You may have even stolen Kevin Durant in the middle of the first round of your draft, picked up Ramon Sessions a few years ago before he became a SportsCenter favorite. You pride yourself on being able to snag key players off waivers.
But there's also this, you're a San Antonio Spurs fan, and now you know exactly what I'm getting to.
As a Spurs fan, you know your beloved Tony Parker shouldn't be taken early because he doesn't have the assist numbers, you know that Tim Duncan may carry the load for your team one night and then he might not play the next night, especially if it's a back-to-back.
You are savvy enough to realize this, but when you see Duncan available in the second round or Parker available in the fourth, your Spurs homerism takes over and your draft strategy goes out the window. Raise your hand if you took Tiago Splitter late in the draft even though he was injured, but convinced yourself that he was a sleeper and was going to pay dividends.
So you know that Richard Jefferson was a bad bet even last year, because he was always the first or second option coming to a team where he'd play fourth fiddle. You knew that his scoring average would take a dip, but you saw his athleticism and you didn't mind sacrificing a few points because he'd likely have a high field-goal percentage.
So this year you stayed away and now some blogger is saying you should take a chance on him again.
But this year is different. Jefferson got back to basics this summer working with Spurs coach Gregg Popovich and shooting coach Chip Engelland among others, and it's showing. He is more comfortable on the floor, he's averaged 18.6 points points and 3.7 revounds per game. But, Jefferson isn't looking like just a two-cat player this year. He's been effective beyond the arch, making 53 percent of his threes and shooting 58 percent from the field. His aggressiveness is getting him to the line.
I would probably be accurate in saying that Jefferson has been sitting on the waiver wire in your league all season, but if he continues to consistently put up big numbers, he won't be there for long.
Sure he may regress and have a few bad games, but here's the beauty of it, it's not much of a risk.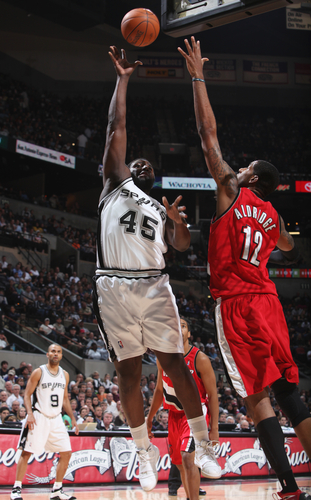 You can waive one of your bottom of the roster guys, pick up Jefferson and just keep an eye on him. I would especially advise this if you are in a deep league.
The Spurs have been thankful they gave Jefferson a second chance, maybe you will be too.
Sell: DeJuan Blair
Like Jefferson, Blair worked hard all off-season, and that was apparent during the preseason. He played well enough to earn a spot in the starting lineup, but his struggles of late may earn him a spot back on the bench.
This season he's averaged 5 points and 6.9 rebounds per game.
Pop may keep Blair at center a few more games, but I wouldn't be surprised to see him replaced with Antonio McDyess or Tiago Splitter within weeks. Blair's probably a better fit off the bench anyway.
If you picked Blair as a sleeper at the bottom of a deep league, it may be time to look elsewhere.