NEW YORK , NY – New York Knicks' Carmelo Anthony and MISSION Athletecare held a press conference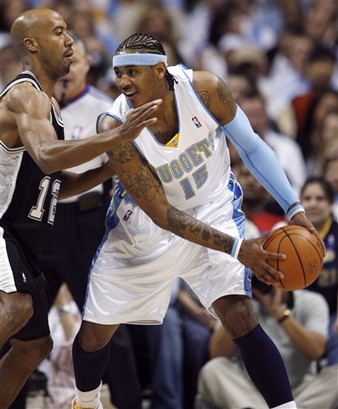 to promote his new signature "Power Grip" product. In a nutshell, it's "liquid chalk" designed to eliminate sweaty hands which often leads to a slippery grip.
After Anthony fielded some questions on the new product, I was able to ask him about his time with the Denver Nuggets and facing the San Antonio Spurs during the regular season and playoffs.
For those who remember, Spurs-Nuggets matchups were intense and often physical battles, especially in the playoffs. And even though the Spurs would usually walk away with the series victory, Anthony still knows what the Spurs are all about.
"At the end of the day, the Spurs they are an older team," said Anthony to Project Spurs. "They are a very experienced team who been through a lot since I been in this league. I been able to face them in the playoffs four times every season.
"They always been a tough, professional organization. I'm pretty sure they will do what they have to do to keep that going over there."
And when asked what his favorite memories about those classic battles, former Spur Bruce Bowen and Manu Ginobili sprang to his mind.
"I have a lot of them. Like I said I faced them multiple times. Times where me and Bruce Bowen had battles out there. Times where me and Ginobili had battles out there. It's always been some battles between Denver and San Antonio," Anthony said to Project Spurs. "I miss those days."
But when asked what were the best defensive teams he has ever faced, Anthony did not list San Antonio, "The Boston Celtics, the Lakers."
Indeed many Spurs fans also miss the Spurs' defensive days but I guess Carmelo might have forgotten about the great defensive teams he had to face during his time in Denver.
Other notes:
• Anthony on if he thinks there will be an upcoming NBA season:
"I hope so. I'm at a point right now where I'm just waiting for them to say, 'Listen it's (lockout) is uplifted.'" "I'm ready for a season."
• Anthony's true story on waking up thinking training camp was to begin:
"October 3, I got up thinking I had training camp. I got up, ate some breakfast thinking I was going to go out to the (Knicks') facilities and it dawned on me that we weren't having a training day, we weren't having a media day."
• Anthony said he is working on bringing an exhibition game to New York City.
• Anthony said he will not look to be in the front office of an NBA team after his playing days are over and at most would be a consultant.
• Anthony on what the Knicks' roster needs:
"There (are) pieces that we can use on the New York Knicks whether it's a point guard, big man. We can use pieces. I think we are headed in the right direction. This lockout put a little stall in that process." "The New York front office will do what they have to do to make that happen."
• Anthony doesn't feel the players are getting their message out to the fans regarding the lockout:
"I don't really think we are getting out message out there, to be honest with you, as players. The owners are definitely doing a great job of getting their message out there. They have David Stern, they have the owners who can go out there and talk. We only have Derek Fisher. At the end of the day we have one person going against the whole NBA, the owners, the commissioner."