Jeff Garcia wrote about his 1999-2009 Spurs All-Decade starters last week, but what good is an All-Decade team without a solid bench and coach?  So today I give you the Spurs All-Decade bench and coach.
Point Guard: Speedy Claxton
The Spurs couldn't believe their luck when they were able to trade Mark Bryant, John Salmons and Randy Holcomb on draft night for Claxton. Although he only played one year for the Silver & Black, Claxton proved to be the best backup point guard the Spurs have had the last decade. Claxton averaged 5.8 points per game and 2.5 assists in just over 15 minutes per game, but in the playoffs and especially the 2003 Finals, he played a vital role. Claxton also partnered with Manu Ginobili to form likely the Spurs most potent backcourt combo off the bench. I'm sure I'll got a lot of email about not having Avery Johnson here, but Avery really only played two years during this decade, and his last year in 2000-01 was pretty forgettable. While you can argue that Johnson hit the shot that won the Spurs their first championship, it is very easy to forget how much Claxton contributed to the Spurs' second championship when Jason Kidd seemed to be destroying Tony Parker.
Shooting Guard: Stephen Jackson
For all the drama Jackson brings to any team, the guy scores points. Known as "Buckets" by his Spurs teammates, Jackson was a weapon from beyond the arch. He enjoyed his best season in San Antonio in 2002-03 averaging 11.8 points, 3.6 rebounds and 1.6 steals per game.
Small Forward: Bruce Bowen
I'm not sure I really need to say anything about Bowen, but I will anyway. It is no coincidence that the Spurs won three titles during Bowen's tenure in San Antonio. From locking down the NBA's elite on a nightly basis to hitting big three's in the playoffs, Bowen never took a night off and never took any credit. I would list his stats, but I think that would be a disservice to Bowen and would not be an accurate representation of the impact and role he had on the Spurs teams he played with.  It still baffles me he never won a Defensive Player of the Year during his career in the NBA.
Power Forward: Malik Rose
Bringing down 19 rebounds during a preseason game was almost reason enough to give DeJuan Blair this spot, but I couldn't overlook Malik Rose. Rose, like Blair, was a rebounding machine and rebounding has been a weakness since Rose was traded to New York. A fan favorite, Rose always provided much-needed energy off the bench and that's what his role would be for the All-Decade bench. Rose's best season as a Spur came in 2002-03 when he averaged 10.4 points and 6.4 rebounds per game.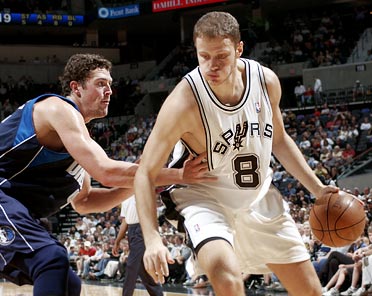 Center: Rasho Nesterovic
It's never easy following someone like David Robinson, and perhaps Rasho was judged unfairly because he was the Spurs next starting center after Robinson. But when you look back, Rasho probably did better than any of our starting centers since his departure. His best season came in 2003-04, when he averaged 8.7 points, 7.7. rebounds and 2 blocks per game. His numbers decreased since then, but so did his minutes with the arrival of Nazr Mohammed.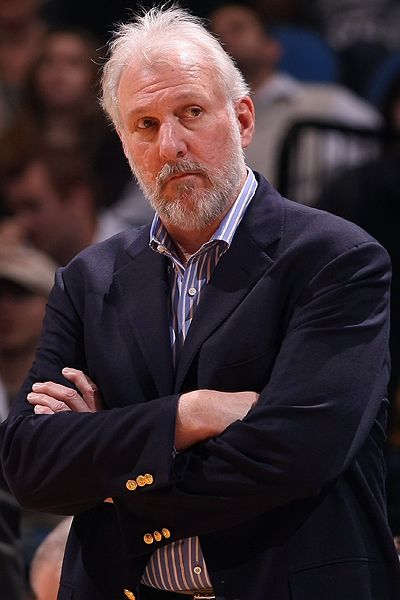 Coach: Gregg Popovich
No surprise here.  Considered one of the best NBA coaches ever, he has led the team to four NBA titles.  He was the NBA Coach of the Year Award in 2003, and earned his 500th career victory on March 2, 2006becoming the fourth fastest coach in NBA history to reach that milestone.  Popovich won his 100th playoff game on May 19, 2008, versus the New Orleans Hornets and is tied for third place in all-time coaching victories with Larry Brown.  Just make sure when you do ask him questions, be prepared for not so great answers.
Did we overlook anyone?  Please leave us your comments and let us know which players make up your Spurs All-Decade Bench. Feel free to leave a comment with your choices.
Jeff Garcia contributed to this article