Few teams in North American sports have been as steadily dominant as the San Antonio Spurs. Their 5-1 record in the NBA Finals is bested only by the Bulls, and their consistent core and "team-first" attitude makes them an annual playoff threat.
Dynasties like the Spurs are one of the reasons betting on the NBA is so crazy popular:: it's any bettors' guess as to when San Antonio will finally run out of steam, or win another title. The most diehard Spurs and NBA fans of course think they know and will put their money where their mouths are, potentially winning big bucks in the process.
There's no surprise there is a correlation between sports betting and basketball, the face paced game and the unpredictably really tie in well with sports betting. Fans have won a lot of money when they have placed a wager on their team. If you are wondering how to get started – the OnlineGambling.ca sports betting page will provide you with top tips, a glossary of all the sports betting terms and how to get started.
All great franchises have their list of unforgettable games that fans (and the bettors that also took part) will always cherish. Here is our list of the top five Spurs games of all-time.
1999 NBA Finals, Game 5: Spurs 78, Knicks 77
It was the Spurs and Knicks that ended up surviving the longest in 1999's sprint of a lockout-shortened season. The second year of the "Twin Towers", San Antonio's David Robinson and Tim Duncan guided their team to the league's best record and two playoff sweeps in search of their first title.
Just that was in reach entering Game 5 of the Finals. Holding a 3-1 series advantage, San Antonio was down one with less than a minute to go in Madison Square Garden. An Avery Johnson-two from near the corner was the deciding bucket, as the Knicks failed to score on two last-second chances.
1999 Western Conference Finals, Game 2: Spurs 86, Blazers 85
But that matchup against the Knicks wouldn't have existed without a miracle of sorts. Most of the season, it was the Pacific Division Champion TrailBlazers that looked like it would be San Antonio's stiffest competition. When the two teams met in the Western Conference Finals, the series looked like it was going to be as competitive as predicted.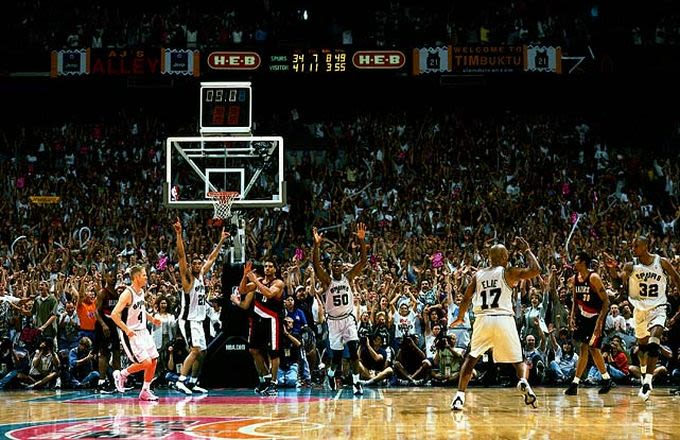 A tight Game 1 loss would leave Portland angry, but what happened in Game 2 led them straight up demoralized, leading to a Spurs sweep. At halftime the score was 48-34 Portland, but with 12 seconds left in the game the Spurs had narrowed the lead to 85-83. Most probably expected Steve Kerr to be the man to take the potential game-tying or winning shot; but instead it was Sean Elliott, who caught the inbound pass from half-court, tip-toed, shot, and put the Spurs up 2 with 9 seconds left. This Memorial Day Miracle is even more remarkable considering that Elliot was playing with a serious kidney condition that would have kept him out of the game if he had had his needed-transplant sooner.
2005 Western Conference Semi-Finals, Game 6: Spurs 98, Sonics 96
Home-court advantage had held strong so far in the 2005 WCSF, with neither the Spurs or Sonics being able to pick up a road win heading into Game 6. But if San Antonio could find a way to do that in the KeyArena they would avoid a draining a 7-game series.
Tim Duncan, despite missing his first nine shots of the game and suffering an ankle injury in the fourth quarter, stepped up to be the Spurs' hero they needed. Tied 96-96 with 14 seconds left, Ginobli drove the lane on SA's final possession before finding Duncan, who made the go-ahead layup with less than a second remaining.
2008 Western Conference First Round, Game 6: Spurs 117, Suns 115 (OT)
Game 1 of the 2008 first round was a rematch of what many called the previous season's "real" NBA Finals. But the game didn't feel like a Finals match, or a playoff one, early on. The game was all-Suns for most of the game, even holding a 16-point advantage at one point. Gregg Popovich employed the "Hack-a-Shaq" technique to help his team close the gap, and with just seconds left, Michael Finley hit a game-tying three to send the game to OT.
There, another first of the game–and first of the season–happened: Duncan hit an unlikely three-pointer to tie game with three seconds left, making a second overtime necessary. Late in that period, Steve Nash hit a game-tying three of his own with 15 seconds left, but Manu would drive and score to give the Spurs the win in this instant classic.
2014 First Round, Game 4: Spurs, 93, Mavericks 89
Few were giving the 8-seeded Mavericks a chance, but after three games in the opening round of the 2014 Playoffs, it was them that held a 2-1 series advantage. Despite being down 20 in the third, Dallas fought back to take a late lead. After posting a double-double off the bench, Mav DeJuan Blair was ejected for kicking Tiago Splitter in the head, amping up the energy in the American Airlines Center even further.
In the final two minutes, the teams exchanged buckets, making the score even with less than :45 to play. Tony Parker found a wide-open Boris Diaw for a go-ahead three. Dallas answered with a two and then foul Parker, who would hit just one of the free throws, a mistake that was afforded when Monta Ellis missed a layup on the other end, signifying a Spurs victory that