Every year around this time, a bunch of NBA team bloggers gather to preview the upcoming NBA season. With no idea of when the season will start, due to the NBA lockout, we thought we would change it up a bit due to these circumstances.
Team Name: San Antonio Spurs
Last Year's Record: 61-21
Free Agents: Steve Novak and Chris Quinn
Team Needs: Size up front. A veteran point guard that could step in if Cory Joseph struggles as Tony Parker's primary backup.
1. What are your team's biggest needs this offseason?
The Spurs really need to get back to basics, and most importantly, that means defense. I'm not expecting the kind of defense the spurs had during Bruce Bowen's tenure, but the Spurs' efforts to outgun everyone and do their best on defense were only effective during their impressive regular season run, before falling short to the Memphis Grizzlies in the first round of the playoffs. They gave up some defense on the perimeter by trading away George Hill, but they received what many expect to be a defensive stalwart in San Diego State's Kawhi Leonard. Leonard not only adds youth, but also athleticism and the ability to block and defend inside and out. Spurs GM R.C. Buford said on draft night that after taking a look at some of the teams the Spurs would have to face in the future, size at each position was a weakness and also something Leonard addresses.
Defensively, the Spurs could also use some help up front. DeJuan Blair had a sophomore season that left much to be desired, Tiago Splitter didn't live up to the probably unfair hype and I doubt Tim Duncan is going to go Benjamin Button on us. Antonio McDyess who said the 2010-11 season would be his last, is still a possibility, since the lockout could be kind to his aging body, however he'd likely play spot minutes at best. I'm not giving up on Splitter just yet. He had some bad luck in being injured within the first few days of training camp last season and missed some crucial time not only learning and getting comfortable with the Spurs' offensive and defensive schemes, but also in building chemistry on the court. Before his injury though, several Spurs players sang Splitter's praises and even McDyess said he would gladly take a backseat to Splitter. While he didn't exactly shine or have the most consistent performances at the FIBA Americas Championship, watching him for 82+ games showed me that he has the tools, but he just needs to get more comfortable, let the game come to him and his teammates need to get more acclimated to his game, especially the work he does on pick-and-rolls. An oft under-appreciated former Spur, Fabricio Oberto, could be a nice addition inside if he makes a full recovery and decides to return to the NBA. The Spurs are not likely to pull in any big name centers in free agency, but they just need someone to do the dirty work inside and make guards second-guess charging into the paint.
The Spurs front office, and especially Buford have confidence in Cory Joseph, who they drafted with the 29th pick in the draft in June. While I may have some concerns about giving a 19-year-old primary backup point guard duties, Joseph showed poise beyond his years leading Canada at point guard in the FIBA Americas Championship. While Gary Neal may play some minutes at point guard and Manu Ginobili can play the point, I'd still like to see the Spurs pickup a third point guard, and preferably in the savvy veteran mold, similar to the role Jacque Vaughn played a few years back. Earl Boykins, Antonio Daniels and Earl Watson are three free agents that could easily step into that role.
2. What are the team's biggest strengths & weaknesses? (so far)
One of the biggest strengths is that the "big three" are all still together and Parker and Ginobili looked to be in midseason form during Eurobasket and the FIBA Americas Championship. While offense didn't get them very far in the playoffs, they did boast a balanced scoring attack last season where several players were capable of stepping up and handling the scoring load when another player was off or being tightly defended. While the "big three" may be aging, the Spurs now have some much-needed youth, especially in the second unit.
As for weaknesses, the Spurs seem to be slowly fixing their defensive issues and will likely continue to make that a priority once the lockout is over. While I mentioned age as a positive, age is also a negative with Parker, Ginobili and Duncan getting older and more prone to injury. While they have players like Gary Neal that could be inserted into the starting lineup, a loss of any of the aforementioned players could be a detrimental one.
3. If there is no season in 2011-12, how is your team set up for 2012?
Luckily for a team like the Spurs, they have strong leadership in coach Gregg Popovich but also among the players. Having everyone on the same page is not an option and everyone falls in line and has the same goal. If the season is lost, a few players have already agreed to contracts overseas and I would think more would follow suit, keeping them in shape. Unfortunately, losing a season means players, especially the "big three" will all be another year older and that branch holding up the proverbial window is really starting to wear. One positive is the D-League. The Spurs own the Austin Toros and in a lost year, the Spurs staff could use the Toros as a year-long training camp for players that could be on the cusp of making it into the league and spend more time developing that talent.
4. If you could make one change the NBA's new CBA, what would it be?
In this situation where I am representing the Spurs, I would have to agree with owners that a change to guaranteed contracts is in store. Watching a player underperforming consistently and take home $10 to $15 million per year is obviously a major flaw and one that is especially evident in the Spurs' case. A large percentage of jobs pay according to effort. Underperforming workers are rarely given raises or paid more, so I'm not so sure why the same system shouldn't work in the NBA. If there are countless exceptions when it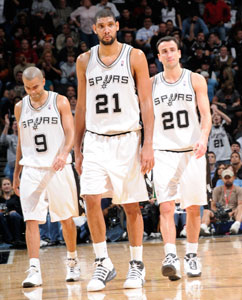 comes to player contracts, why can't a player performance exception be used. The one issue that seems to be in agreement on both sides is revenue sharing. San Antonio is a small market team and is in the middle of the pack in terms of team revenue. In order to succeed and get every team out of the red, revenue sharing is imperative. I believe it also creates an even playing field when it comes to free agency.
5. Do the Spurs have a shot to get back into title contention?
As Doc Rivers told me in an interview once, the Spurs will always be a contender as long as they have Duncan, Ginobili and Parker. The only thing I would add to Rivers' quote is the word healthy. The Spurs were on a remarkable pace last season and the team seemed to be firing on all cylinders. A Duncan injury, which affected team chemistry and momentum, followed by Ginobili's injury in the final game of the regular season had a definite impact on their playoff success. The Spurs second unit lost a lot in the Hill trade, but a healthy James Anderson paired with Neal, a wildcard in Leonard, and Blair and Splitter should be an interesting combination. Richard Jefferson and an open spot next to Duncan are two major question marks for this team and will be directly associated to their success. When looking back at the healthy team the Spurs had during the regular season, I certainly would not rule this time out, if they play this season. If the 2011-12 season is lost, all bets are off.