With a few months until the San Antonio Spurs' season opener, we are in basketball purgatory. The days just keep getting hotter while basketball seems to be getting farther. Thankfully the 2010 FIBA World Championship in Turkey will give us a sigh of relief, but that's the World Championship, not the NBA.
So as I sit in my front yard, spraying myself with the water hose and thinking of basketball seasons past, here's a list of ten things Spurs fans should be on the look out for during the 2010-2011 season.
1.The arrival of Tiago Splitter
After years of wishing and wanting, the wait for Tiago Splitter is over. Splitter will finally be in a silver and black uniform when the regular season tips off against the Indiana Pacers on October 27th but will Splitter be the "Robin" to Tim Duncan's "Batman"? The peanut butter to his jelly? The Laverne to his Shirley? Splitter has everything he needs to be successful in San Antonio. He already has great foot work and a wonderful knowledge of the game having played professional basketball since he was 15. Playing alongside Duncan and for an organization that believes in him and what he's capable of, will only add confidence to his well developed game.
However, Spurs fans were concerned with the reigning Spanish League MVP. As reported here on Project Spurs, Splitter suffered a muscle contusion in his left thigh while playing overseas for Brazil but after an MRI the injury was minor. Splitter has said he will play in the World Championship in Turkey. Spurs fans know all to well the complications that arise from injuries to Spurs players playing during the summer. Hopefully playing in the World Championship against Team USA will give him a little taste of the NBA.
Oh and if you have not seen the Project Spurs exclusive interview with Splitter, click HERE.
2. Will the real Richard Jefferson please stand up?
Disappointing is not the word most Spurs fans thought they were going to use when asked about the play of Richard Jefferson during the 2009-2010 season, but it is. Jefferson's last season is as disappointing as this years film by M. Night Shyamalan "The Last Air-Bender." The graphics look amazing and the plot seems intriguing but the casting is terrible and the movie is just a huge let down. But there is always the possibility that the sequel will be better then the first movie.
And that's what we Spurs fans are hoping for. That the Jefferson sequel will be more productive and entertaining then last seasons show. There is no reason for it not to be. Jefferson is still in the prime of his career and is a highly explosive player. With one year under his belt he should feel a little more comfortable in the system and hopefully he'll be willing to take some of the five million open jump shots that he passed up last year.
3. DeJuan Blair: more minutes, no knees, no problem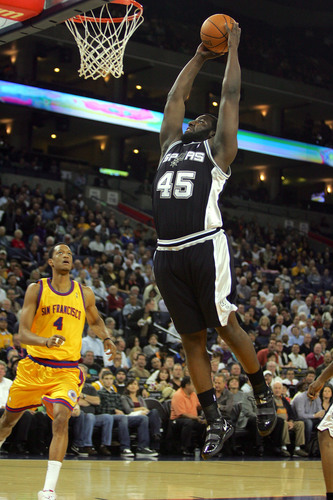 The steal of the 2009 NBA draft, look for Blair to get more minutes this season. Last season Blair averaged 18 minutes per contest while pulling down 6.4 rebounds a game. If coach Popovich plays Blair around 24-26 minutes a game, look for not only Blair's rebounds to increase but also his 7.8 points a game to go up as well. After making the NBA All-Rookie second team and earning Co-MVP of the Rookie Challenge, it seems like the sky is the limit for this young beast. He shown a really strong commitment to the Spurs for taking a chance on him despite his lack of ACLs in his knees. ACLs or no ACLs Blair will continue to play hard and earn those extra minutes.
4. The knee of Tim Duncan
If you're like me then last year was painful for you to watch Timmy play in that huge knee brace. It is a sign of the times. Duncan is no longer the physically demanding post player he once was. His baby hook shot that was at one time unguardable was shot block candy for players like Dwight Howard and Brendan Haywood. He averaged 18 points and 10 rebounds in 31 minutes per game, all career lows.
Despite playing all season with a lingering knee problem, Duncan played in 78 games and 18 points 10 rebounds a game ain't to shabby for guy who is 33 and has played in 1,147 games. Any NBA general manager would love to have Duncan's 18 and 10 a game on their team but Duncan brings more than stats to the Spurs. He brings leadership and confidence. He knows what it takes to win and even though he's getting up there in age, he can still show some of the younger players how it's done in the low post not with his body, but with his mind. Look for another stellar season from Duncan along with another All-Star appearance and, hopefully, a fifth title.
5. Bienvenido a Miami!
The Pat Riley production of the South Beach Circus comes to the AT&T center on March 4th. It'll be the first meeting between the two teams of the regular season and the game, like every other Miami game, will be aired live on ESPN. A possible finals match-up, this meeting helps the Spurs see where they stand towards the end of the season and how they match-up against the elite teams of the NBA. I know, March is almost a whole year away, but this gives you time to save up and buy tickets. This game will sell out, if it hasn't already, so start saving now and I'll meet you at the AT&T Center on March 4th.
6. James Anderson looks to make a splash
You might not know anything about Anderson but by the end of the season you will. Anderson was selected by the Spurs with the twentieth overall pick in this years draft and he bring the Spurs an aggressive scorer and perimeter defender known for clogging the passing lanes and coming up with big steals. The 2009 Big 12 Player of the Year averaged 22.3 points and 5.8 rebounds a game for the Oklahoma State Cowboys last season. Anderson looks to be another young player that can make a difference on this roster for years to come. In 2008 it was George Hill. In 2009, DeJuan Blair. This season it will be James Anderson. If given enough minutes, look for him to make one of the All-Rookie teams.
7. New contract Manu
With 16.5 points and nearly 5 assist a game last season, Manu Ginobili had one of his best seasons ever for the Spurs and he was rewarded with a three-year $38.9 million dollar contract. But now that Manu is locked up, will he continue to be as aggressive as he was last season? We all know Ginobili is one of the games most aggressive competitors, but will this new contract make his game complacent? Is his ankle finally healed? There are lots of questions when it comes to Ginobili but one thing is for sure, the Spurs need him to win a championship.
8. Spurs take on the Lake Show
The Spurs play Kobe Bryant and the two-time defending champions Los Angeles Lakers on December 28th in the Staples Center. This will be the first meeting between the two Western Conference powers. This is our first opportunity to see Splitter take on the biggest team in the west. This is also a great chance to take a look at George Hill and how he has developed as a defender. Hill will spend a majority of his time guarding Bryant, but Hill is a committed defender and should be able to complicate things for Kobe, if anyone can complicate things for Kobe. This leads us to our next thing to look for…
9. The rise of George Hill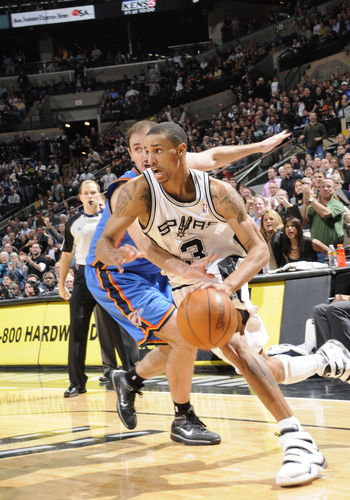 Do you love Hill? Because you should. He's the future of the Spurs franchise and it seems like he is the only one who can really hold himself back from how great he can actually be. Hill had a superb second year coming in second place for the Most Improved Player award. With a mid-season injury to point guard Tony Parker, Hill stepped up and was a natural born leader. The real question is this season is he going to start? A Parker-Hill back court is a dream back court. They are two of the fastest guards in the League and could create match-up nightmares with both of them on the floor. But what about Ginobili? Will coach Gregg Popovich continue to have Ginobili come off the bench or will he start him and bring in Hill off the Bench? All these questions lead us to our final and perhaps the most important thing to watch for…
10. New York, New York?
If you are a Spurs fan, then it's no secret the New York Knicks and Tony Parker have been linked to each other with many trade rumors and unfortunately for Spurs fans, he might be in love with them. Recently reported here on Project Spurs, Parker's wife Eva Longoria-Parker simply said "yes" when asked if her husband would like to play in New York. With Parker coming off an injured filled season and still in the prime of his career, should the Spurs try and trade the former Finals MVP before he leaves via free agency? If he's traded, will Hill be ready to take over as point guard? How will all these trade rumors affect the play of Parker?
This is a very complex and tricky situation for everyone in the organization but Parker and coach Popovich have a great relationship. If there's any two that can work through this, it's these two. Let's also not forget, this is Parker's final contract year so be watching for contract extension talks, if any.
So there you have it. Ten things to look out for this season. While there are a variety of other story lines, these were some of the things I'll be watching this season. Please feel free to leave a comment on what you will be looking for this season.
Hopefully next season we'll be looking for "Defense of the Spurs fifth title" as something to watch for in the 2011-2012 season.