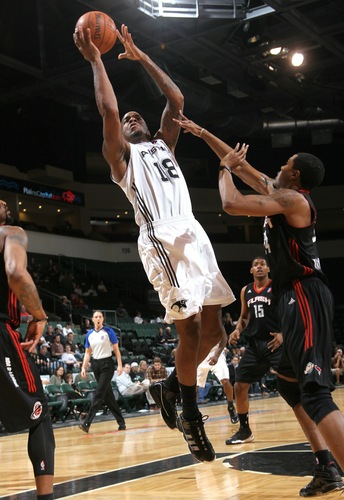 With the 2012 Summer League set to start this weekend in Vegas, the D-League announced members of its 11-man headed to compete against the teams sent by other NBA teams.
A former San Antonio Spurs player and former Austin Toro will be part of the team tipping off on Sunday against Washington.
Leo Lyons, who spent the better part of two seasons with the Toros and Marcus Cousin, who was invited to Spurs training camp and played for the Toros for one season will participate in Vegas.
The remaining roster includes Marcus Cousin, who averaged 14.7 points and 8.6 rebounds in 38 games for the Austin Toros during the 2010-11 season; Chris Daniels, who averaged 16.2 points and 9.2 rebounds in 35 games for the Erie BayHawks; Marcus Dove, who averaged 14.2 points and 6.6 rebounds for the Dakota Wizards; Chris Johnson, who averaged 16.2 points and 9.2 rebounds for the Wizards during the 2010-11 campaign; and Leo Lyons, who averaged 13.9 points and 7.7 rebounds for the Toros and Wizards.
After being signed by the Houston Rockets, Cousin played with the RGV Vipers last season, while Lyons, who previously worked out with the Spurs, was traded in a three-team deal to the Dakota Wizards in March.
The D-League select team, coached by Eric Musselman, will not have a game against the Spurs team while in Vegas.