On August 13, the Naismith Memorial Basketball Hall of Fame enshrined several players, a coach and an owner along with the 1960 and 1992 US Olympic teams.
But one name was once again not called, former Spur Artis Gilmore.
Gilmore, 22 years removed from the NBA, has yet to get enough votes from the Honors Committee to be inducted in the Basketball Hall of Fame.
Lesser players are inducted every year and I'm sure I'm not the only person scratching my head and wondering every time the inductees are announced every year.
Some insist that it's because Gilmore's best years came when he played for the Kentucky Colonels in the ABA, which was considered inferior to the NBA.
But, as I've said many times before, it's the Basketball Hall of Fame, not the NBA Hall of Fame, and it's a tragedy that Gilmore's contributions continue to be overlooked.
Looking back, Gilmore excelled at every level of the game, which makes one wonder why he hasn't even received one vote and is now ineligible until 2012.
His college career was split between two schools, his first two years were at Gardner-Webb Junior College followed by two at Jacksonville University, where he now serves as Special Assistant to the President.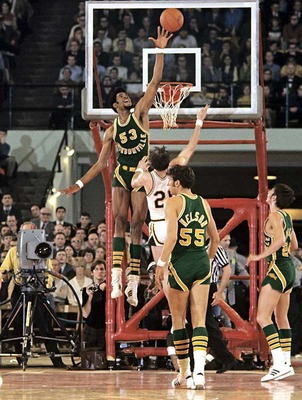 At Jacksonville, he lead his Dolphins to the National Title Game, but came up short against UCLA. Gilmore's average of 22.7 rebounds at Jacksonville is still the highest in NCAA Division I Basketball history.
In 1971, Gilmore, known as the A-Train, was drafted by both the Kentucky Colonels of the ABA and the Chicago Bulls of the NBA.
He opted for the ABA and starred immediately. In his rookie year, he won both Rookie of the Year and Most Valuable Player Awards. He was also a five-time ABA all-star, five-time All-ABA first team, five-time ABA all-defensive first team member and both an All-Star game MVP and Playoff MVP.
Not only was Gilmore dominant, he was considered the best center and the second-best ABA player at a time after Julius Erving.
After four ABA teams joined the NBA and his Colonels team folded, he was drafted first, by the Chicago Bulls in an ABA dispersal draft.
After six seasons in Chicago, he asked for a trade after many of the Bulls' failures were blamed on him. Many called him passive, said he didn't look mean enough on the court and wasn't aggressive enough, even though none played Kareem Abdul-Jabaar tougher and he left Chcago with several accolades.
Sound familiar? David Robinson was labeled "soft" his entire career, even though he retired with two rings, a very impressive list of accolades and career averages that you can't help but respect.
Gilmore came to San Antonio in a trade for Dave Corzine, Mark Olberding and cash. He teamed up with George Gervin and gave the Spurs their best season record since they joined the NBA. With a prolific scorer like Gervin around, Gilmore focused on doing what he did best, rebounding and blocking shots.
The 7-2 Gervin averaged 16.1 points, 9.6 rebounds and 1.8 blocks per game in his five years with the Spurs.
After the 1986-87 season, Gilmore was traded back to Chicago, where he played 24 games, was cut and then played for Boston for the remainder of the year before he retired at the age of 38.
In the NBA, he was a six-time All-Star, made the All-Defensive second team in 1978 and was the career leader in field goal percentage.
After a career like that, you almost have to question the committee. How can a player that accomplished so much on the collegiate level, in the ABA and the NBA, not get a single vote?
You could say he never won a title, but neither did several other Hall-of-Famers, including recent inductee Karl Malone. Maybe it was his low-key, no hype personality, like current Spur Tim Duncan, but regardless of his personality, his numbers and accolades can speak for him more than he will.
His former Kentucky Colonels coach Hubie Brown will also speak on his behalf.
"I have no idea why he's not in. He's the most dominant center in the history of the ABA. He dominated college basketball at Gardner-Webb Junior College, then at Jacksonville, and was the Most Valuable Player in the 1975 playoffs."
"In the NBA, he revitalized the Chicago franchise and played for a great team in San Antonio with Gervin."
"He was extremely coachable, a hard worker, and got along with his peers. He played big in big games. So I don't understand why he is snubbed . I have difficulty with that, because I don't know what else he could have done. I don't know what else to say."
2012 is two years away, and hopefully someone on the committee will right this wrong. If not, Gilmore will continue to wait, just as we will, knowing that it's inevitable that the Hall will finally appreciate his game and career as we do.