X-factor.  Noun.  A hard-to-describe influence or quality.
Every championship team has one or more.  It's the player that seemingly comes out of nowhere and does the little things necessary to take a team's stars from good to great.  The x-factor is rarely a marquee name.
San Antonio Spurs fans will find it hard to forget the performance of Steve Kerr in the 2003 playoffs.  Without him, there may be one less banner hanging in the AT&T Center today.  The Los Angeles Lakers had Ron Artest. The Boston Celtics had Rajon Rondo.  The Chicago Bulls had too many to name. Players that probably aren't Hall of Fame bound; in fact, they may not even make an All-Star game.  But they play above expectations when it counts and take their team to a new level of competition.
Expectations.  Every player has them.  Some are high, some are low.  The stars meet or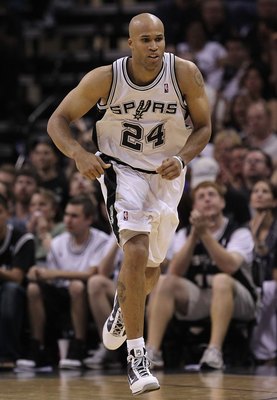 exceed them night in, night out, year in, year out – Tim Duncan, Tony Parker, Manu Ginobili, George Hill – fans know what they are going to provide when they hit the hardwood.  But one need not look further than the LeBron James experience in Cleveland to know that they cannot do it alone.
So who is going to be the x-factor that takes the Spurs to the next level in 2010?
Richard Jefferson.
That's right, you heard me.  RJ – the man Spurs fans love to hate heading into this season- is poised to give the Spurs the edge they need to contend for another NBA championship.
It makes perfect sense if you think about it.  Jefferson's sub-par play last year disappointed everyone, there is no doubt.  But when he did play well, it almost certainly led to a Spurs victory. 
In 2009-2010 when RJ scored double digits, the Spurs were 38-16.  The Spurs were over twice as likely to win with Jefferson scoring in double digits as they were when he laid a proverbial egg.  This is no coincidence.  He fills a crucial gap in the Spurs offense that, when playing well, makes the Spurs very tough to beat.
He's proving the hypothesis already this season.  Jefferson is on a tear.  He is averaging 18 points per game shooting 60% from the field and over 50% from the three-point line.  He hasn't become a bigger part of the offensive game plan – he averaged 9 shots per game last year to his 10 shots per game so far this season – he is simply playing better.
And it can hardly be argued that this was expected by anyone following the Spurs.  The talk of the off-season was who could the Spurs pick up to fill his role in the offense;  how would Tiago Splitter perform; could James Anderson mature fast enough to help the Spurs immediately?  With all of the attention off of him, Jefferson managed to find his game in the off-season and it has shown.
Keep watching.  He will prove me right.  You'll see.