It's no secret that the Houston Rockets pulled off some big moves in recent years.
Last year it was the trade that landed the team an All-Star guard, James Harden, from the Oklahoma City Thunder. This summer, the Rockets followed that up by landing the biggest name in free agency, Dwight Howard.
And now on the eve of training camp, Houston Rockets coach Kevin McHale will be busy trying to make the adjustments necessary to best incorporate his shiny new weapon known as "D 12." Coach McHale had this to say about the issues he's now faced with.
Via Houston Chronicle: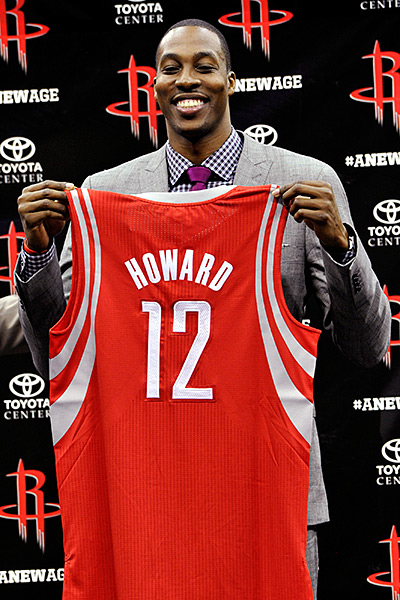 Q. When you look at all that has changed since last season, what are the things you consider the priorities for the start of training camp?
A. We've got to fit in the new guys. We got Dwight. We have to fit him in. We have a different team than we had last year. We're trying to get roles. We have young guys that are still trying to establish themselves in this league. I'm excited about the changes we made. I think we have a good opportunity to get better. That's what it's all about. I'm looking forward to working with Dwight, but there's a lot of unknowns right now.
Q. What are the unknowns related to the changes you mentioned?
A. Carlos (Delfino) had a huge role on our team last year. Carlos played 20 to 30 minutes a game, and he's not here. We have to find out who is going to get those minutes. Can we play Omer (Asik) and Dwight together, and how much? D-Mo (Donatas Motiejunas), Terrence Jones – one of those guys is going to have to step up and be more consistent. We're going to have to count on one of those guys. We have Omri Casspi in. We have (Robert) Covington. We have different guys. Those are always issues.
Q. A lot of last season's success was based on the team's clearly understanding how it needed to play. Can there be carryover, or do you have to change how this team needs to play?
A. I think we're going to play basically the same style. We have to get better defensively, and with Dwight we have to have more of an emphasis on trying to get the ball in the post. Through Dwight running and Dwight doing different things, I think we can do that without really having to change our identity. We still want to get the ball up and down the floor. We still want to be aggressive and run and attack offensively. I think we have two of the top rim protectors in Dwight and Omer, so we have to use those guys. I'd like to use them together. It gives us a chance to have a defensive presence and run off our defense a little more. Our style will change a little bit because our personnel changes, but it won't change dramatically. At least I hope it doesn't.
So, how would the Spurs match up against the new look Rockets?
Many may simply point to the last games the Spurs played against Howard when he was helping to lead the Lakers charge into the most recent NBA playoffs. Then, the Spurs fared quite well employing their stable of bigs to counter the tandem of Howard and Gasol. Even the seldom called upon Aron Baynes managed to bother Howard down low enough to help tip the scales to the Spurs' favor.
It will be interesting to see if another incarnation of the "twin towers" can work with the Rockets' Howard and Asik. If it does, what will the Spurs do to try to successfully counter that?
Splitter improved defensively last season but with Dwight having guards like Jeremy Lin and Harden, perhaps that duo would break down the Spurs' defense, leaving Splitter (and the other bigs of San Antonio) to be at the mercy of Howard in the paint.
Then again, Tim Duncan seems to be in the head of Howard and if TD gets going, Dwight might be a non-factor.
I leave it to you, Spurs fans. What is your take on what promises to be some heavyweight match ups this year between the Rockets and Spurs?