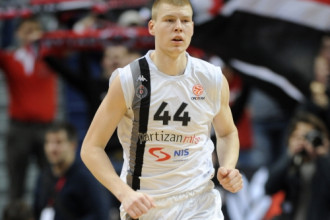 We didn't know too much about Davis Bertans when he was drafted by the San Antonio Spurs in 2011. He was widely considered to be a steal, considered the best shooter in the draft, and was likely a draft and stash since he was still very raw and young.
Early on Bertans drew comparisons to Dirk Nowitzki, but was also thought to be a little one-dimensional as a tall player who didn't have the strength to play inside or have the speed or athleticism to play in a true swingman role, so he would be relegated in an outside spot-up shooter's role.
The great thing about leaving players overseas to develop is that they get to do exactly that without taking up a roster spot or counting against the salary cap. What a difference a few years have made, as Bertans has shown a redefined game, especially this season. He can still shoot from outside, but as the video below against Serbian team Sloboda Užice shows, he can also drive and finish inside.
As our own Trevor Zickgraf wrote about recently in an exclusive interview with Bertans, he'll likely be working on his upper body strength with Spurs coaches this summer and he has been working on developing and improving different aspects of his game.
In the game against Sloboda, Bertans poured in 23 points inside and outside. While he could still be a few years away from a contract with the Spurs, it's definitely good to see constant development.