It's been a pretty good start to San Antonio Spurs rookie guard Nando De Colo's NBA career. He has shown great court awareness with his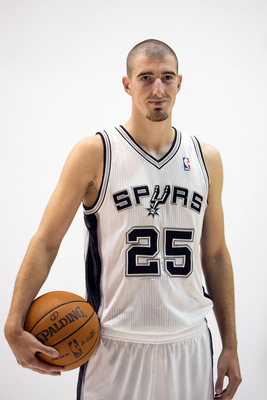 passing, ability to shoot the ball going 3-3 in the preseason game against the Rockets and has fit in within the Spurs' system.
And aside from having the luxury of having fellow French countryman Boris Diaw and Tony Parker to help ease his transition in the NBA, his other fellow countryman and French national team teammate, Ronny Turiaf, believes in Nando (via French site Sport24.com).
"Nando (Colo) is very good, said Ronny Turiaf in an interview by NBA Europe about the new player of the Spurs. I think he has a real chance here in the United States, to have more success than he has in Europe. I'm so happy for him clearly, it is in an ideal situation. It would be difficult to ask for more: coached by a Hall of Famer and surrounded by Hall of Fame players also, so I am sure he will be a great success and I look forward to see him to well here in the NBA ."
Turiaf nailed it on the head. De Colo is in an ideal situation with San Antonio. The French national team run a similar system like the Spurs and of course with Parker an Diaw to help him into the NBA, the sky is the limit for Nando. He will have a tough path this season (considering the team is stacked with guards), however, with the way he has been playing in the preseason, he has certainly given the coaching staff reason to consider putting him in the rotation.
What do you hve to say Spurs fans? Have you been impressed or disappointed in De Colo's performance so far?