Project Spurs continues its look back at the past Spurs decade of greatness.  We gave our thoughts on the All-Decade Team (starters and bench), and even asked our readers which championship team (2003, 2005, or 2007) was the Spurs Team of the Decade.
Today we will continue our look back at this decade for the Spurs with Lance Fell, who will give his top five underrated Spurs players of the decade.
By Lance Fell
Over the last ten years, the Spurs have had immeasurable success, including four NBA Championships and the highest winning percentage in all of professional sports. And while there are plenty of players who have contributed to this success, for example Robert Horry and Stephen Jackson, there are a number of Spurs players throughout this decade that have gone under the radar despite their on-court accomplishments. So without further adieu, I bring you the top five underrated Spurs of the decade.
5. Derek Anderson: After being ousted by the Phoenix Suns in the first round of the 1999-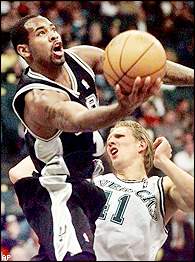 2000 playoffs, the Spurs knew it was time for an upgrade in the back court. Avery Johnson was dismantled by Jason Kidd in the playoffs, and it was time for the Spurs to bring in a more athletic guard.
In the summer of 2000 the Spurs acquired Derek Anderson from the Los Angeles Clippers. That season, Anderson started all 82 games for the Spurs, playing 34.4 minutes per game and averaging an impressive 15.5 points. Anderson also shot well from the three-point line making nearly 40 percent of his attempts. He also lead the team in steals, averaging almost two steals per game.
Anderson was easily the second best player for the Spurs in the 00-01 season. Only one player had more points and played more minutes than Anderson and that was Tim Duncan.
However, his game did not cross over to the playoffs and played in only seven of the 13 games. He averaged 27.7 minutes in those games shooting a stagnant 26 percent from the field and averaging 7.7 points a game. He was traded to Portland that summer.
Anderson might not have played well in the playoffs, and draw the ire of Spurs fans when his name is mentioned but for one season he was a solid player for the San Antonio Spurs. Thankfully, that summer we drafted another point guard: Tony Parker.
4.  Rasho Nesterovic: The 2002-2003 season ended with a parade down the Riverwalk, and
a second banner in the rafters. But it was also the end of David Robinson's Hall of fame career, and there were questions about who would fill the void left by the Admiral.
So in the summer of 2003, after averaging 11.2 points and 6.6 rebounds per game, the Spurs signed center Rasho Nesterovic to a six year deal. And while he might not have been the second coming of the Admiral, he was extremely dependable starting all 82 games for the Spurs. In 29 minutes per game, Rasho averaged 8.7 points and 7.7 rebounds to go with two blocks per game.
Rasho missed 12 games the next season because of an ankle injury, but he did start the 70 games he played in. However, he only played in 15 of the 23 playoff games. Nazr Mohammed had taken his starting role. But in three seasons with the Spurs, Rasho averaged 6.3 points, 6 rebounds and 1.6 blocks per game. He helped the Spurs win a third championship, and might have one another one in 2004 if not for a lucky shot by Derek Fisher.
Spurs fans might have expected a little too much from Rasho. They were looking for the next David Robinson, but a player like David Robinson comes only once in a lifetime.
3. Malik Rose: Rose is listed as 6'7″, but he played like he was seven feet tall. He was
instant energy off the bench, and for eight seasons he gave it his all on the court. Rose would fly out of bounds after loose balls, set his feet and take a charge, and sometimes even take an elbow from Shaq and Spurs fans loved him for it.  He was undersized, yet you couldn't tell by the way he played.
In eight seasons with the Spurs, Rose averaged 6 points and 4.6 rebounds a game. Modest stats, but it was his production in the 2002-2003 champion season that really won Spurs fans over. He averaged a career best 10.4 points and 6.4 rebounds in 79 games that season. Roses' stats are far from great, but he was a vital contributor on two championship teams. He did the intangibles and played harder than anybody when Pop gave him minutes.
2. Brent Barry: Brent Barry arrived in the Alamo City in the summer of 2004. He was coming
off a season in Seattle in which he averaged nearly 11 points a game and shot a daunting 45 percent from the three-point line.
played in 81 games in the 2004-2005 season, averaging 7.4 points a game, but only shooting 35 percent from downtown. He was a playmaker, adding a leader and reliable ball handler to the second unit. He was a solid backup point guard to Tony Parker.
After losing the first game of the playoffs to the Denver Nuggets, Barry was inserted into the lineup, giving the Spurs another playmaker on the court alongside Parker and Tim Duncan. The Spurs would win the next four games and go on to win the 2005 NBA Championship. Barry started in eight of the 23 playoff games that summer.
played three more seasons with the Spurs and his in 2006-2007 shot 44 percent from the field, helping the Spurs win yet another championship. Barry was easily the backup point guard on that team as well, and teaming up with Manu Ginobili made the Spurs second unit one of the deadliest in the league. Without Barry's leadership and great basketball IQ, perhaps the Spurs don't win one of those championships.
1. Bruce Bowen: Let me make something clear, without Bruce Bowen, the Spurs don't win
championships. They might win 55 games, and go to the playoffs, but they don't win rings and raise championship banners in the AT&T Center. Bruce Bowen has single handily shut down a list of Hall of Famers including Kobe Bryant, Carmelo Anthony, Steve Nash, Allen Iverson, Ray Allen and Dirk Nowitzki to name just a few of the super stars that have been demoralized by the tenacious defense of Bruce Bowen. All of those players listed have played the Spurs in championship playoff runs and Bowen made them irrelevant at some point.
He played five straight seasons of 82 games and missed only one game in the 2007-2008 season because of suspension. Remarkably he started in each game. Bowen was named to three consecutive All-Defensive second teams between 2000-2003, and five straight All-Defensive first teams from 2003-2008. He finished as runner-up for the defensive player of the year award three times.
Bowen was perhaps the greatest perimeter defender of this decade and without him, there are no Riverwalk parades in San Antonio.
There have been a plethora of underrated Spurs players this decade. Steve Smith and Steve Kerr could have easily made this list. But these five players had the greatest impact and deserve more recognition.
Please leave a comment and let us know who you would have put on this list.