When I first started thinking of Spurs nicknames, I thought there was no way I could come up with 10 among the list of lame nicknames like The French Connection, El Contusion, Ninja and San Antonio Daniels. We've now been through the The Admiral and The Iceman but I decided to turn back the clock a bit for a majority of the remaining nicknames, listed in no particular order.
Big Shot Rob (or Bob)
Although it wasn't a Spurs original, Robert Horry lived up to his nickname with clutch performances in several games throughout his five year stint with the Spurs, most notably his three-pointer in game five of the 2005 NBA Finals.
Captain Late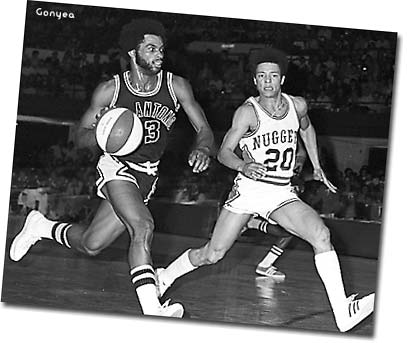 If you thought Horry was clutch, you may want to turn the pages back a bit on the Spurs history book and find the section on 6-2 guard James Silas. Nicknamed "Captain Late" among other nicknames for the way he took over games in the clutch. Silas played most of his career for the Spurs, and was an original Spur coming over in 1973 when the Dallas Chaparrals relocated to San Antonio. His best season was his last for the ABA Chaparrals, with averages of 23.9 points, 5.4 rebounds, 5 assists and just under 2 steals per game. Silas had his number 13 jersey retired by the Spurs in 1984.
The Bruise Brothers
Look up the Bruise Brothers on wikipedia and you'll find a list of wrestlers and ice hockey duos. But who can forget the early 80's Spurs players that were labeled "The  Bruise Brothers" by then Express-News reporter Kevin O'Keeffe. The players that made up the Bruise Brothers were Dave Corzine, Reggie Johnson, Paul Griffin, Mark Olberding, Kevin Rstani and George Johnson. Check back tomorrow for a full profile on "The Bruise Brothers."
Special K
Larry Kenon spent 4 years with the Spurs, joining George Gervin to make one of the most potent scoring tandems the Spurs have ever seen. Known for grabbing one-handed rebounds, Kenon averaged over 20 points and 10 rebounds in his tenure with the Spurs.
The Rifleman
Chuck Connors Person played for the Spurs from 1994-98, before he was traded to the Bulls for Steve Kerr prior to the 98-99 season. He was originally given the nickname "the rifleman" after Chuck Connors, who played in the television western by the same name. But Person made the nickname relevant with his sharp-shooting displays on the court.