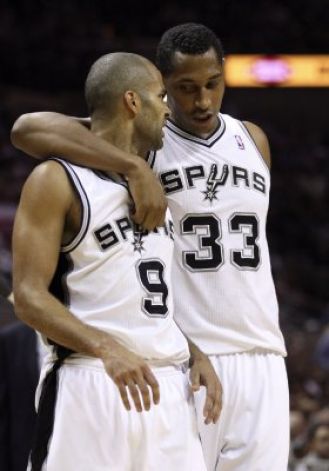 It really seems like it hasn't been that long since the end of last season, but it's almost time to kick off the NBA again. The big talk of the offseason was the Lakers, and rightly so, but they haven't won anything yet.
The San Antonio Spurs are flying under the radar again, which is the status quo even though they exceed the majority of expectations every year. Tony Parker seems pretty optimistic for the season. After all, it's the same old Spurs.
"For the title we have our chances," Parker said (loosely translated from French). "Last year, when we won twenty games in a row, we really played a good basketball, we were not far to go after. I hope that this year will be good. We always have a good team. As usual, we have focused on stability and helps. It's been ten years since I am with Manu Ginobili and Tim Duncan, that's fifteen years ago that the same coach."
Parker also admits that the Lakers, Thunder, Clippers and Heat are going to be some stiff competition. He even said the Knicks and Nets could surprise some people this year.
San Antonio is also going to have to be called the Paris of the Southwest with all the French guys on the team. Adding Nando de Colo to the pair of Parker and Boris Diaw is something that Tony is very excited about.
"It's gonna be awesome! This is the first time there will be three French on the same team in the NBA. Already playing with my best friend (Diaw) as was the case last season, it was a sick thing. Nando that happens, it will be a little weird because we will believe in the France team but it will be nice. And Boris is an old one. I'm glad he signed for two more years. After that, we should not forget that we are part of a team, it will communicate with everyone."
Again, pardon my French (translation), but you get the point. Tony Parker is clearly looking forward to the NBA season.