To sign or not to sign? That is the question. At least for the San Antonio Spurs' front office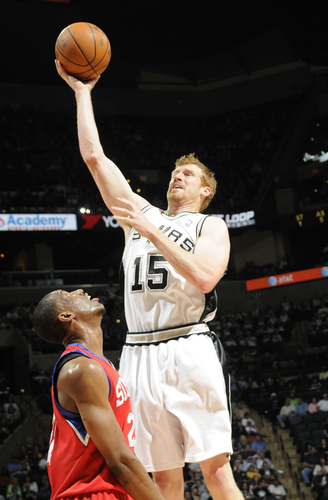 in regards to the "Red Rocket" Matt Bonner.
Bonner, who made a reported $3.3 million dollars last season and finished his third year with the Silver and Black averaging seven points and three rebounds in 18 minutes per contest.
Bonner is a part of the larger-than-life free-agent class of 2010, and with a fairly large amount of forwards and centers available, the Spurs could choose not to sign him and pick up a faster, bigger low-post player. The Spurs can offer Bonner the mid-level exception (MLE) which this season would be $5.8 million dollars, but that seems very unlikely. R.C. Buford plans to use the MLE to sign Brazilian power-forward/center Tiago Splitter. That is of course if Splitter wants to join the Spurs.
However, because Bonner has played for the Spurs for three seasons now, the Spurs could resign Bonner using their "Birds Rights" which allows NBA teams to resign any player that has been with the team for three years or more without changing teams and not be penilized for going over the luxary tax. According to "Birds Rights", the most the Spurs can offer Bonner is the MLE.
Still, if the Spurs are unable to sign Splitter, the question remains, "Should the Spurs resign Bonner?" 
His numbers were down this season after having a good second year with the Spurs in which he shot 44 percent from behind the three-point arch. This year, the "Red Rocket" made 90 of the 231 three pointers he attempted, lowering his three-point field goal percentage to 39 percent. Not to shabby considering Boston Celtics' Ray Allen's field-goal percentage from behind the arch was 36 percent this past season, while three-point shooting champ Paul Pierce shot only 41 percent. Even with a fairly impressive three-point shooting percentage, many Spurs fans have become impatient with his progress and have had enough of his inconsistencies.
I was able to speak with a few friends who are also die-hard Spurs fans. Here is what they had to say on Bonner:
"I just want to rip out my hair sometimes when he wont stop missing!" says die-hard Spurs fan Robin Sunsong. "Sometimes he'll miss five or six in a row and just keep shooting. After the sixth miss I wonder why Pop still has him in the game."
Yet there are some Spurs fans who love Bonner and hope the Spurs resign him not only for his on court capabilities, but for his off the court commitments to the community says Spurs fan Janna Joseph. 
"I love Matt Bonner," says Spurs purist Janna Joseph. "His three point shooting helps spread the floor. And he looks really cute in all those commercials you see on T.V."
Bonner's three-point range might help the Spurs spread out the opposing defense, but by stepping out and shooting threes, Bonner has left all the rebounding up to Tim Duncan or any of the other Spurs bigs. This season the Spurs weren't able to crash the boards like they use to, and their inability to collect rebounds was exploited in round two of the playoffs against the Phoenix Suns.
Bonner attempted 231 three pointers this season. No Spurs big man has shot anywhere near that amount of threes except for former Spur, Robert Horry. But the most Horry ever attempted in a single season for the Spurs was 149 in the 2007 championship season.
David Robinson, Rasho Nesterovic and Nazr Mohammed, the last three true Spurs center, have only shot a total of 117 threes combined. Needless to say they were some of our better rebounders.
There are many problems the Spurs need to address this off season. What is going to happen with Splitter? Are the Spurs going to move up in this summers draft and are the Spurs really going to shop Tony Parker? While Bonner might be the least of the Spurs' concerns, the outcome of his free-agency will have a huge effect on how the Spurs handle all three of those questions and more.