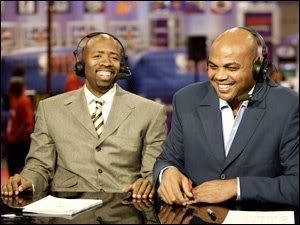 After the San Antonio Spurs lost to the Memphis Grizzlies in game five of their series, everyone, and I mean everyone, is thinking this is the end of the Spurs' run in the 2011 NBA playoffs.
However, TNT's basketball analyst Kenny Smith still believes the Spurs can come back and advance in the playoffs:
"It's like watching Muhammad Ali in his last fight. But I hope they have one more rope-a-dope in them because I hate to see the champs lose."
"I still think they can come back," he said. "I know I sound crazy."
And how did Charles Barkley, who has been vocal on his opinion on the Spurs all season long, respond? Well, as only Barkley could:
Replied Barkley, "Wanna bet?"
The Spurs will face the Grizzlies tomorrow night in San Antonio and with the team down 3-1 in the series, it's understandable why Spurs fans are upset. But fret not Spurs fans. It's not over until it's over. So keep the faith that if any team in the NBA can make a comeback will be the San Antonio Spurs.