In the first meeting between the San Antonio Spurs and the Los Angeles Clippers, the
Spurs knew their opponents were hungry for revenge
and didn't know what to expect. In the second meeting, they knew more or less what to expect from the Clippers, but they didn't expect what was going to happen to their backup-moved-to-starting small forward Stephen Jackson when he fractured his right pinky on his shooting hand.
With the exception of the first quarter (where the
Spurs outscored the Clippers 28-18
), San Antonio had a tough time containing the Clippers with a combination of good Los Angeles offense, bad San Antonio decision making, and some questionable calls by the referees. The Spurs didn't give up and had a unlikely hero in Matt Bonner hitting some tough three point shots and savvy shots close to the rim, but in the end they couldn't get close enough for a tie. Are the Clippers the better overall team or can the Spurs be if they tweak their schemes and decision making? These are some problems that the Spurs faced that can be fixed:
The Blake Griffin Effect: No one is going to argue this – the guy is a beast. Griffin has burned the Spurs this season in game one (22 points, 10-16 FG, 10 rebounds) and game two (16 points, 8-18 FG, 12 rebounds). The plan the Spurs have had is to guard Griffin with whoever is starting next to Tim Duncan (Boris Diaw in game one, Dejuan Blair in game two). One of the main reasons coach Gregg Popovich has created this defensive match up is to counter DeAndre Jordan's size and capitalize on his lack of shooting, which allows Duncan to stay close to the rim to help. The problem that Griffin has given the Spurs is that he's developed a mid range jump shot to go with his quickness, which forces his defender to either give him room or play him close which forces Duncan to commit to help and leaving Jordan open. Once Duncan helps, that forces a Spurs small to help on a pass to Jordan, which forces another Spurs player to rotate (the scheme that the Spurs had against the New York Knicks when Carmelo Anthony was playing the power forward position). If the Spurs still want to go man defense against the Clippers for their third meeting, don't be surprised if Duncan is defending Griffin at the start or for the majority of the game. Even at 36 years old, Tim Duncan still has a combination of wingspan, height, and speed that some NBA big men wish they could have.
Tony Parker's Decision Making: Parker is one of the top point guards in the NBA, but he's still human. During game two of four against the Clippers this season, he seemed to be lagging a bit on offense (he did play great defense on Chris Paul). A couple of times while Parker was managing the offense, the Spurs got a match up that was heavily in their favor: a pick and roll switch with Parker being guarded by a Clippers big man. Parker was overall not too efficient in those situations, he either made it obvious he was going to drive which gave the big a step ahead of him to contest at the rim or he settled for a long shot that could've been way easier. Parker has a number of options in that situation that can help the team score more easily:
Roam Around The Top of the Key
: This makes the big follow Parker from one side of the court to the other or might force an opposing player to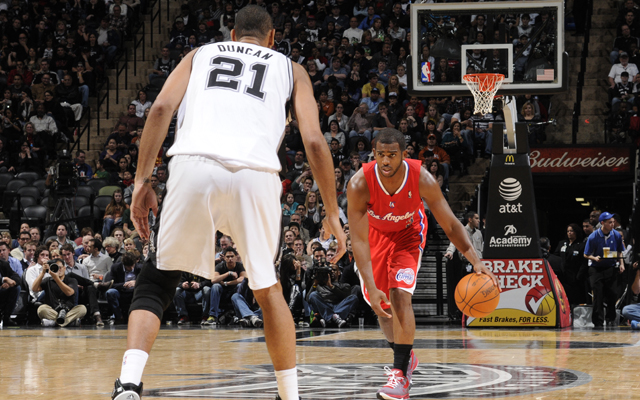 help out, which would leave their guy streaking to the basket on a double team or open for a shot. If the big decides to play man the whole time or gets no help, that'd give Parker a wide open shot with his speed.
Ask For Another Screen: This is probably an option that not a lot of point guards choose because they think their match up is always best. Parker could ask for a screen from another guard or a small forward, which could confuse the opposing team because not a lot of teams coach a 1-2 or a 1-3 pick and roll/pop. Tony could also ask for a screen from a teammate who's being guarded by the remaining big of the opposing team. This would have the primary defender either fighting over a screen or the help defender not having great position because of slower feet. This may force another play to sink into the paint to contest Parker, then giving Parker a tear drop shot or an open man somewhere.
Pass It To The Big With The Small On Him In The Paint: This seems like the obvious choice. If the switch is with Duncan, it should be a no brainer. Even if Parker's man is blocking a passing lane, he can dribble or pass the ball around while his big man gets position on the opposite side. The shot by the big would be a high percentage shot with an easier view of passing lanes if someone decides to help.
Keep A Cool Head During The Game: There's little doubt the Spurs get emotional about foul calls on them or lack of foul calls for them. The team seemed deflated once Stephen Jackson broke his finger, but this got worse when a few (or a lot depending on what Spurs fan you talk to) calls went the Clippers' way. From Duncan getting a technical for screaming at a referee that he should have gotten an And 1 to a questionable Manu Ginobili offensive foul call against Matt Barnes. The Spurs seemed flustered, driving to the lane hoping to get a call or taking an outside shot instead of driving because they weren't going to get a foul call. The team needs to play with a mindset of scoring without expecting a call. That's where we've seen many classic moments from Parker, Ginobili, and Duncan in the past. This Spurs team is a younger, inexperienced one compared to the championship teams of the past, but they still have their big players since 2003. The veterans have to lead by example so everyone else can follow suit.
These are just a few things the Spurs can fix for their match up against the Clippers, but also may help against the other teams in the NBA. San Antonio still have a veteran coach and veteran leaders on the team, they're bound to turn their problems around and they know they have a full season to work with.
(photo: Jayne Kamin-Oncea, US Presswire)