When San Antonio Spurs coach Gregg Popovich asked the team for a fast start, I'm sure even he couldn't imagine that they would be 12-1 after 13 games. Knowing him, he still is not satisfied with the team winning 11 in a row with two impressive wins on the road against the Utah Jazz and the Oklahoma City Thunder.
But what can Spurs fans take away from this hot start and what does this team have that last years team didn't have? Let's take a look.
Level of competition.
One of the major differences this year from last, is the Spurs are beating the teams they are supposed to beat. Last year the Spurs would seem to play down to the competition level of the teams and they paid the price by losing close games to sub-par teams. Remember the loss to the New Jersey Nets, the worst team in the NBA, last season?
In the playoffs, they paid the ultimate price by having to settle for the seventh seed instead of a top four seed, which would have gave them home court advantage in the first round. That was the lowest seed the Spurs have clinched in the Tim Duncan era.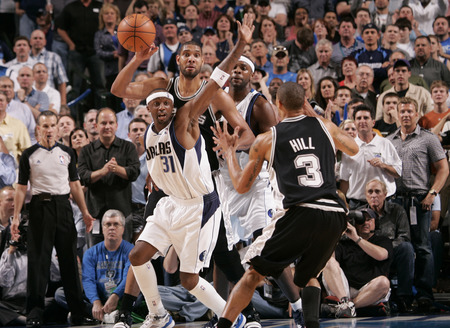 Panic mode.
Another change from last years team to this years is the "panic button." If you watch enough basketball it is easy to notice every team goes on a run at one point or another in a game, sometimes even two or three runs. When this happened to the Spurs last year, they went in panic mode and would just take the first shot they even caught a glimpse at.
This year, they are more relaxed and take their time to find the right shot they want whether it takes four, five or six passes. The team is looking like more of the Spurs teams of old rather than the team we saw all of last year.
Chemistry.
A word which gets tossed around for every team in sports.
It's one thing to add a bunch of pieces to a team but if there is no chemistry then it will not work out plain and simple. The Spurs seem to be on the same page more often than not this year and the win/loss column reflects that. Richard Jefferson looked lost at times last year and was very hesitant to take any shots.
This year he is more involved and understands his role on this team. DeJuan Blair would commit foolish fouls after fouls last year and take himself out of games, but this year he seems to have his head in the game and has played smart basketball thus far. However, he can be forgiven seeing how he was a rookie last season.
New faces.
Although the Spurs did not add too many new faces to the roster, two of the new faces are working out soundly for them. Tiago Splitter has not played many minutes, but he takes advantage of the minutes he is given. Against the Cleveland Cavaliers he showed signs of what he is capable of and had his best game as a Spur. Gary Neal provides a knock down shooter who is not reluctant to shoot the ball. In this young season, Neal has shown that he is always ready and willing to shoot, even when his shot is not falling for him all game long.
A healthy Ginobili, Parker, and Duncan.
Simply put, Manu Ginobili, Tony Parker and Tim Duncan got a full summer off to rest and heal nagging injuries. With a rested Big Three, it's no wonder the Spurs have jumped out to this hot start.
The 2010-2011 season may be young, but this years San Antonio Spurs team sure do look like they are on a mission with something to prove. If the team can stay healthy they are certainly in the mix of things in the ever so tough Western Conference.