CBS Sports broadcaster and new Indiana Pacers' Vice President of Basketball Relations Clark Kellogg was in New York City to help announce the new Capital One Cup.
The Capital One Cup is a new premier award for excellence in on-field performance in Division I college sports. It awards one men's and one women's NCAA® Division I athletics program for their cumulative on-field performance across multiple sports during the fall, winter and spring athletics seasons.
Once the seasons are done, $200, 000 will be awarded to the winning program (men's and women's sports) for graduate level scholarships. The winners will be announced during the annual ESPY awards.
After the press conference I had a chance to speak with Kellogg who is an Advisory Board member for the Capital One Cup. We spoke on the new award, his new role with the Pacers, San Antonio Spurs' rookie James Anderson, losing to President Obama, and more.
Jeff: Tell me your thoughts on being part of the Advisory Board for the Capital One Cup.
Clark: It's unbelievable to be targeted as someone who can serve in an ambassador and Advisory Board member role to the degree Capital One would be comfortable with. I know Capital One is about excellence, commitment, integrity, teamwork and the Capital One Cup is looking to shine a light on those kinds of ingredients in terms of on field performance across a number of men's and women's college sports at the Division 1 level. To be part of such an Advisory Board with representation from all sports, every gender and to be able to shine a light on not just championships on the field or court but to be able to be a part of the Capital One Cup, which is going to provide funding for scholarships for student athletes in their post graduate pursuits, to me it's a healthy, positive, win-win. It gives us a chance to shine a light on sports that may not get as much attention as football and basketball do.
Will the Capital One Cup opportunity ever be offered at the Division 2 level?
I'm not sure but I think Capital One's approach with the Capital One Cup was to distinguish it from the Director's Cup which is in fact a similar award but does in fact cover Division 1, 2, 3 and NAIA. I think Capital One with the Capital One Cup is locked into the Division 1 sports team and going across men's and women's sports and distinguishing between men's and women's sports. You will have a winning men's program and women's program with the Capital One Cup and both of those programs  will receive $200, 000.00 and the sports represented are tiered so points are given a three-multiplier and you got tier 2 sports and tier 3 sports. I think that balances the scales in terms of giving proper weight to the different sports across both genders and in terms of accumulating points.
You were recently hired as the VP of Player Relations for the Indiana Pacers. Looking forward to that?
(laughs and smiles) I am! I actually got started Jeff in the middle of July. I still live in Columbus, Ohio so I commute every other week to Indianapolis. I'm really excited about the opportunity. It's an awful lot. It's a VP level position with the Pacers organization. It's primarily a mentoring program for our players to try to equip them in their own personal development as far as financial education, networking, being involved in our community. Really empowering them to become champions on and off the court. Many of our players come to us at 19, 20, 22 years of age, not college graduates, not very developed in life skills and in maturity. To help them begin to get some practice in those areas is something that is important to me. Hopefully we can serve our players in that capacity.
Sounds like the Pacers found the right guy.
Well I certainly hope so Jeff. Thanks. I'm going to give it my best.
You have be be loving the experience Danny Granger got playing for Team USA.
Larry Bird and I talked about that last week. Larry played a couple of times internationally and he was just raving about what that experience can do for Danny. It just has to help him see things more broadly. Help him in his own individual development but I think it will help him bring back a real zest for wanting to be a leader for the Indiana Pacers in a way that fits his personality, his position as our highest paid player and our best player.
Pacers now have two new players — Darren Collison and James Posey. Looking forward to working with them?
(smiles) Very much so! I've gotten to know Darren a little bit through his time at UCLA. James Posey I don't know personally but know of him as a good veteran, solid teammate, a winner, a high-character, high-quality guy. Those are ingredients that you need when you are trying to get things turned around. I think both of those guys will bring some value to our team.
You cover college basketball and saw James Anderson of Oklahoma State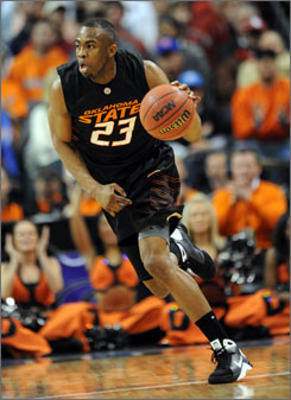 closely and in the NBA Draft he was selected by the San Antonio Spurs. Your thoughts.
He is going to a great organization. Anytime you can be drafted by the San Antonio Spurs, the leadership from ownership, to (Gregg) Popovich, to everybody else in the organization, they are champions in every sense of the word.
A quality NBA prospect like Anderson with good size, terrific range, and I understand he is a hard working kid, a coach-able kid and for San Antonio to add a piece like that, that's a win-win. Great for James because he is going to be around Tim Duncan, Manu Ginobili, Richard Jefferson, Tony Parker. Those are quality guys that have been in NBA finals and won championships. They have established a culture of winning. Anytime a young player can step into that from day one, it really sets the tone for his career being about the right things. That to me speaks volumes so that's a reason a lot of people look at the Spurs drafting Anderson as a great steal.
Some look to Anderson's defense as an issue. Should Spurs fans be concerned?
You know everyone has some "wart" in their game when they are coming from college to the pros. It's a faster game, it's a physical game, it's a mans game at the NBA level. So I don't know many who come in ready to play defense at a high level in the NBA. This is something one can acquire and get better in. He will be fine. If he is willing to work and learn he will be fine.
You lost a game of P.O.T.U.S. to President Obama. Want a rematch?
(laughs) No I don't need a rematch. The one time on the White House court with our President was quite and honor and a thrill. He knows I can take him if I wanted to. He knows that!

Y9JAtl3Jm3k[/youtube]