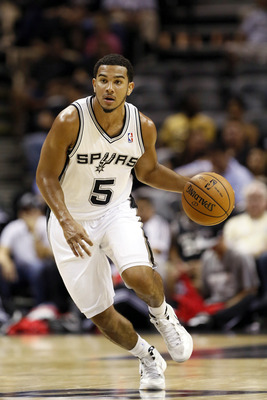 The San Antonio Spurs currently have five players on their roster that can play point guard. When they decided to bring over 2009 draft prospect Nando De Colo, it left many fans wondering where De Colo would fit in with the stockpile of guards, especially those that could play at point.
Gary Neal seems like the odds-on favorite to win the backup spot to Tony Parker while Patty Mills increased his stock with his performance for Australia at the Olympics in London this Summer.
That left sophomore Cory Joseph and rookie Nando De Colo on the outside looking on attempting to earn roster spots as fourth and fifth point guards. De Colo and Neal can both spend time at the two but with Danny Green and Manu Ginobili already penciled into slots there, it seems doubtful that both Joseph and De Colo will stay on the Spurs bench for the entire season and either could be heading north to Cedar Park for stints with the Austin Toros.
Joseph looked like a different player during summer league. He had more poise and confidence running the team and was a vocal leader making smart decisions on the court, a far cry from the inexperienced rookie trying to force the action that ended up with the Toros last season.
Throughout the preseason, Joseph looks to have continued where he left off in Vegas, showing off the same confidence and making smarter decisions while also displaying the defensive skills R.C.. Buford raved about on draft night over a year ago.
In his first preseason game, Joseph scored 10 points and added two assists and three steals in just 15 minutes. Against the Hawks, Joseph had less of an impact in the points column, but had five points and five rebounds with a steal and blocked shot. Through five games, the 6-3 guard is averaging six points, 2.6 assists and 1.6 steals per game in mostly limited minutes.
As well as Joseph has done, it may be hard to match the reaction to De Colo's first few games as a Spur. He's already drawn comparison's to teammate Manu Ginobili and has put on a passing display. His best game was against Atlanta, finishing with 11 points and nine assists in 28 minutes.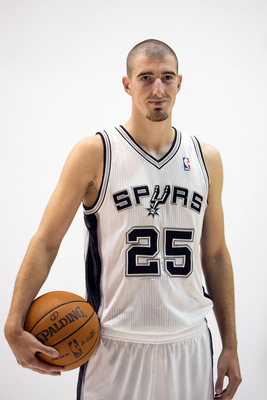 De Colo is averaging similar stats to Joseph, but the rookie is besting the second-year guard in assists. Through five games, De Colo has averaged 5.2 points and 4.4 rebounds per game.
While the Spurs can keep both players on the roster, Popovich will likely elect to keep one of the young guards in Austin so that they have the chance to play more minutes while continuing to develop in the same system.
But it's definitely a close call in trying to pick one over the other and Popovich told the media after yesterday's practice that Joseph and De Colo have had a spirited competition (h/t to SpursNation's Dan McCarney for the transcript).
"Most impressive youngster? I think Cory Joseph and Nando De Colo have been the most impressive. They've had a real spirited competition at their position. They've probably overall played better in games than most."
Because of De Colo's size and experience playing at both guard positions, he could be given the nod, and I'm sure most Spurs fans wouldn't mind seeing more highlight plays from the Frenchman, although his time will likely be more limited during the regular season.
While we'd love to see the Spurs have this type of talent at another position, the Spurs' troubles of keeping a stable backup point guard of seasons past seem to be over with Neal and Mills. Having two young players with the potential of Joseph and De Colo waiting in the wings should make for some interesting competition now and in the future.