Now that Aron Baynes is officially a member of the San Antonio Spurs, their fans can now get excited to what he can bring to the team. While it seems that the Spurs swooped in and lured him to the NBA, there was also some competition for his services. As Darren Wolfson tweeted, another team was making a push to sign the Australian center:
#Twolves were in on Australian center Aron Baynes early (good Euroleague #s), but the Spurs have personal connections to him & guaranteed $. (@DarrenWolfson)
It's no secret that the Minnesota Timberwolves are usually interested in every free agent that's available, this doesn't come too much of a surprise. The bigger surprise is that a championship contender in San Antonio made an aggressive pitch with guaranteed money while some other team could have offered him more money and years to go with it. In the end, there were many factors that most likely played a part in his decision.
From a basketball standpoint, San Antonio is competing for a title with a veteran core mixed with youth. The players have a "team first" mentality with no egos so there's no reason for Baynes to fear anyone holding him down or taking away his opportunities due to some politics.
The other factors may be the ones that were the most relevant. His teammate on the Australian National team, Patty Mills, is on the team and an active supporter of his teammates off the bench. He garners the respect of his teammates and seems to enjoy the team and the organization. He also has a relationship with Spurs assistant Brett Brown, who was also a main reason why Patty Mills chose the Spurs over other suitors. The comfort level is there for Baynes, something he wouldn't have had in Minnesota and he'll be surrounded by true professionals on and off the court who will be helping him to improve in the league.
There's a picture surfacing on Twitter from @dmoldovan88 that shows Aron Baynes' excitement to join the club.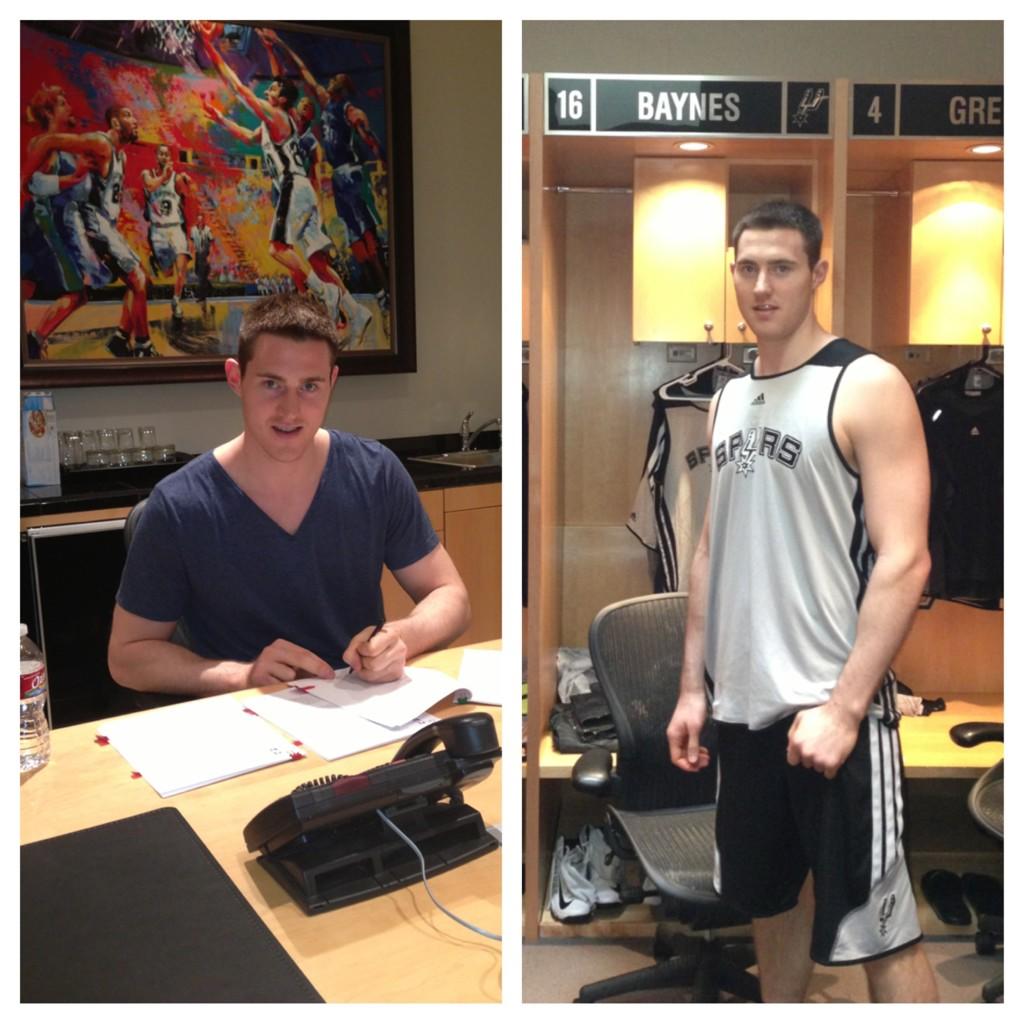 He also tweeted after the announcement became official:
Excited to be a part of the @spurs! Can't wait to get to work #firststep (@AronBaynes)
After considering everything, maybe it shouldn't be too much of a surprise that Baynes picked the San Antonio Spurs. The level of comfort he'll have with the players, friends, and coaches will only help him grow in the league at a faster pace than he would have with any other team. Lucky for Baynes, that's exactly what the Spurs have been known more: allowing players to play to their potential on an ego-less team.