Two weeks into his job as the President of Basketball of Operations for the Atlanta Hawks, former San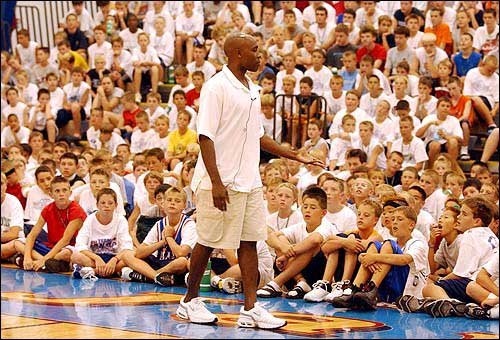 Antonio Spurs Vice President of Basketball Operations Danny Ferry has already taken the NBA by storm by trading Joe Johnson's contract and Marvin Williams' contract, as well as making the Hawks a potential trade destination for Dwight Howard.
Ferry might not be the only member of the Spurs' brass to make a switch to a new team, as Josh Robbins of the Orlando Sentinel reports, Spurs assistant coach Jacque Vaughn is being considered as a candidate to become the head coach of the Orlando Magic.
The Orlando Magic are expected to interview Michael Malone, Brian Shaw, Quin Snyder and Jacque Vaughn for their head-coaching vacancy, the Orlando Sentinel has learned from league sources.
Although it's unclear whether additional candidates are on the list or will be added to the list, Magic general manager Rob Hennigan likely will conduct first-round interviews with Malone, Shaw, Snyder and Vaughn over the next week.
One name out of that list is former Austin Toros head coach Snyder, another product of the Spurs' system. Vaughn's only been on the bench with head coach Gregg Popovich for two seasons, but as I've observed from him through these past two seasons, he's a coach who's constantly interacting with the players and getting them prepared before every game.
It's difficult to see which type of team he would be taking over in Orlando as the Magic are trying to unload disgruntled star Howard, while also trying to get a piece back that keeps them as a playoff team in the East, or beginning their rebuilding mode with multiple free agents in the open market right now.
(Photo: LJworld.com)