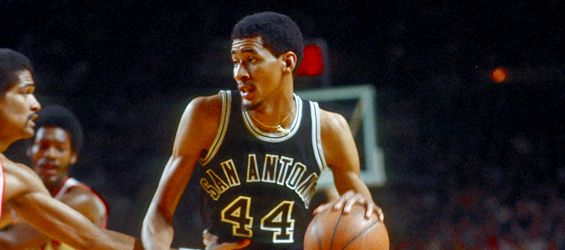 I may be biased but I do feel the San Antonio Spurs have one of the coolest uniforms in the NBA.
The simple, yet elegant, black, white and silver color-scheme is classy look and their all black road uniforms just scream intimidation. Even other teams are trying for the Spurs black uniform look like the Miami Heat.
But at some point during the new season, the Spurs will be wearing a throwback uniform, however, what they will look like is hush, hush.
The Spurs will have one of the nicest throwbacks of the season, but for now it's all NOPE.
In case you are wondering, NOPE stands for Not Open for Public Exposure. In other words, no one is going to talk about the throwback jerseys or show them until the day comes.
I think I speak for all Spurs fans that the throwback jerseys be the jerseys from the team's early days and not the awful metallic silver the team has trotted out before. Those are horrific looking.
I mean let's really go back and see the old-school ABA look where "San Antonio" was written across the road black jerseys or the off-centered jersey numbers on the home silver jerseys. Now that would be cool!