By now you've heard all the rumors of the San Antonio Spurs looking to trade Tony Parker to get into the lottery. The latest even involves George Hill being offered for a late lottery pick.
But outside the top four, I question whether or not it's worth trading an all-star point guard or what could the Spurs' future franchise player?
Enes Kanter is definitely a name that would draw some interest. Only problem: He will likely be gone anywhere between the second and fourth picks, which would make him unavailable if the Spurs traded up to take the Kings or Raptors pick.
According to several sources, Jonas Valanciunas seems to be the player the Spurs are targeting in their attempt to move up.
While Valanciunas is an intriguing prospect, that's all he is right now. He's 18-years-old, will stay overseas and needs more seasoning before anyone knows what he will be capable of doing in the NBA.
He has great size at 7-1 with a long 7-4 wingspan. He's a high energy player with a good basketball IQ, but does all of that translate from Lietuvos Rytas to the NBA in a few years. Will he add on some bulk and get stronger to deal with the better centers of the league or will he be bullied and pushed around inside?
Trading Parker or Hill for an unproven draft and stash center seems to be a big risk considering Valanciunas was behind four other players in scoring and behind two other players in blocks per game last season.
Unless the real value of the trade comes from another player currently on the roster of some of the teams that the Spurs are reportedly talking to, making a big trade for a project in a weak draft might not be the way to go.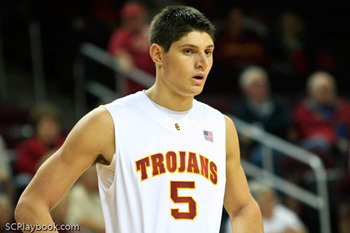 Outside of Kanter, the centers available in this year's draft aren't too far apart from each other talent-wise. If the Spurs are interested in trading up, they could look to move up a few picks in the early to mid twenties to secure USC's Nikola Vucevic, which could end up being a lower risk, higher reward trade.
Vucevic is ready now after three years with the Trojans. He is currently ranked third in ESPN's center rankings and is similar in many ways to Vucevic, except Vucevic is proven and has his college career to back that.
Vucevic is a 7-0 with a 7-5 wingspan that could be very intimidating in the post. He has made huge strides every season he was with USC, while also adding muscle to what was first a lanky frame.
Last season at USC, Vucevic averaged 17.1 points, 10.3 rebounds and 1.4 blocks per game.
Like Valanciunas, he is also a very smart player, but Vucevic offers more on offense. For a center, he has a good looking jump shot, with range all the way out to the three-point line. In that regard, he would compliment Duncan nicely since the Spurs like to keep one of their bigs out of the post.
If the Spurs decided to keep their pick, they could take a gamble on another young, intriguing prospect in Jeremy Tyler without having to give up any players. Nikola Mirotic, Trey Thompkins and JaJuan Johnson are among several other bigs that could be available at 29.
Unless the Spurs are available to swing a deal that would also bring over a second-tier forward or would give them some cap relief by including Richard Jefferson, there are plenty of proven options outside of the lottery.