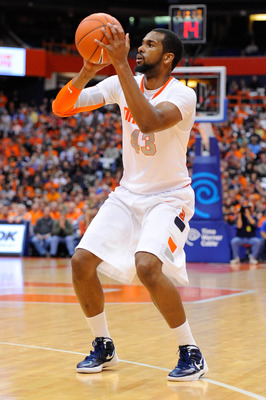 With the NBA's pre-draft combine over and the draft coming up late next month, the San Antonio Spurs will begin working out potential draft candidates.
With the Spurs being of the best perimeter shooting teams in the league, it's no surprise that they'll be bringing in Syracuse sharpshooter James Southerland in for a workout and visit.
Southerland is a 6-8 swingman who played all four years at Syracuse and ended his career on a Final Four run. While he's a bit one dimensional offensively, he's an efficient shooter with range beyond the NBA three-point line.
Southerland has a quick release and when he gets going, he can take over a game shooting outside mostly off screens or on spot-up jumpers. In his final year with the Orange, Southerland posted averages of 13.3 points, 5.2 rebounds and 1.5 steals in just under 30 minutes per game.
While he has a 7-1 wingspan and he played some power forward in college, his wiry frame, height and skill set will likely keep him at small forward in the NBA.
He could spend some time at shooting guard but probably is not fast enough to cover that position in the league, especially considering his defense is in question since Syracuse's defense was locked into a 3-2 zone.
He moves well without the ball and off screens and can finish alley-oops and dunks above the rim, but isn't incredibly athletic for his size and position.
Currently, he is slated to be drafted midway through the second round, so unless his stock rises, the Spurs would have to take a risk and make a reach for Southerland at the end of the first round or hope he falls to the end of the second.