Project Spurs kicks off its San Antonio Spurs 2013-14 season preview with an article from Mike Rehome previewing the Northwest Division.
Northwest Division
Denver Nuggets 57-25 (2nd 2012-2013)
Subtractions: Andre Iguodala, Corey Brewer, Kosta Koufas, Julyan Stone
Additions: J.J. Hickson, Darrell Arthur, Randy Foye, Nate Robinson
The Denver Nuggets will be entering the 2012-2013 season with some new faces added onto their roster. In the past few months the team has had a lot of movement going whether it be in their front office and/or their players. One huge hit that this team took was that of losing Andre Iguodala, who left for the Golden State Warriors, after just one season.
The team has also made changes to their head coaching spot as Brian Shaw will now be barking out orders to the team. Though many are wondering how the players will react to Shaw as this season will indeed be a learning process for both sides as to learn from one another. The Executive of the Year, General Manager Masai Ujiri also was allowed to leave for the Toronto Raptors.
It is always good to bring in more talent when you have players leaving. For the Nuggets they did make some key moves to bring in four players in which I feel could help this team make noise in the Northwest Division.
Nuggets have brought on J.J. Hickson, Darrell Arthur, Randy Foye and Nate Robinson. Each player can contribute in their own specific way to this team. The one player on this team that I really like and can be a game changer is that of Nate Robinson. If you watched the playoffs last year, Robinson filled a key loss to the Chicago Bulls when Derrick Rose sat out the whole season. Robinson stepped up and played at the highest level in which I have seen him. He will bring his penetration as well as ability to create his own shot.
Many Denver fans are hoping that with their depleted front office and the addition of key players their team will make another run into the playoffs. Ty Lawson is coming off of a season in which he averaged 16.7 points per game while shooting 46.1% from the field. He is their top offensive player. The emergence of Kenneth Faried and what he did last season with averaging close to a double-double (11.5 points, 9.2 rebounds), his energy and willingness to be around the ball at all times will be what this team needs in their rebuilding process.
My final prediction for this Denver Nuggets team. I feel that they can make some noise in a division that many feel the Oklahoma City Thunder will, or should, come out on top. The Nuggets though, if they can start gelling together can make a big impression and make those that are doubters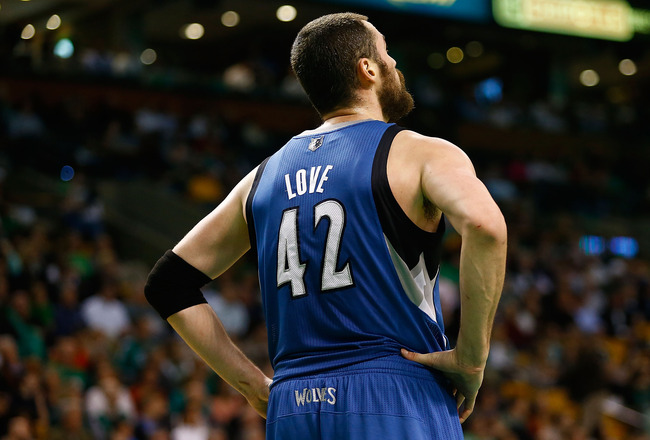 into believers.
Division Prediction: 3rd
Minnesota Timberwolves 31-51 (5th 2012-2013)
Subtractions: Andrei Kirilenko, Luke Ridnour, Brandon Roy, Greg Stiemsma, Malcome Lee and Michael Gelabale
Additions: Kevin Martin, Corey Brewer, Shabazz Muhammad, Gorgui Dieng and Ronny Turiaf
This is no breaking news to anyone, but the Minnesota Timberwolves last year simply put were, "turrible" (Charles Barkley voice). They have not made the playoffs in nine years. What is good for this team is that over the past few seasons they have been increasing their win totals since way back in the 2009-2010 season where they had a franchise-worst 15-67 campaign.
With the subtraction and additions of players, the Minnesota Timberwolves have something to look forward to this coming season. On paper, this team looks to be a contender in the division. I am not going all out and say they are championship caliber. This team needs to stay healthy above all things and play with one another. They do have the talent to make the playoffs, not sure about a deep run but to get there, yes. Minnesota to me will be that team that others will not take seriously, a la Chicago Bulls last season and look what happened there. The Bulls made it to the playoffs and played as hard as any other team while there.
This teams leader and best offensive player is Kevin Love. Going back to injuries, last season, Love played in just 18 games. He has grown into a complete player and can score everywhere on the floor. He does most of his damage on the glass where he continues to impress many with rebounds. Back during the 2011-2012 campaign, he set a career high in points per game with 26. Point guard Ricky Rubio whom is probably one of the flashiest in the league. He has the knack of just creating for others and putting them in a good position to make a positive outcome. Minnesota fans will be in for another treat as Kevin Martin has joined the team during the offseason. Martin is a premier shooting guard and will open up things for both Rubio and Love down on the block. Martin has fallen off on the scoring end the past few seasons. With what he has working for him in Minnesota, he should have himself a bounce back year.
Division Prediction: 4th
Oklahoma City Thunder 60-22 (1st 2012-2013)
Subtractions: Kevin Martin, Ronnie Brewer, DeAndre Liggins
Additions: Steven Adams, Derek Fisher, Ryan Gomes, Andre Roberson
The past few season the Oklahoma City Thunder have been at the top of the Northwest division and this coming season is no different. Their starting five will return as they will be welcoming back point guard Russell Westbrook whom suffered a knee injury during the first round of the playoffs last season. Their 60-22 record deemed them top seeing in the Western Conference playoffs and as stated, look to be there again.
This team lost just three players during the offseason. Kevin Martin and Ronnie Brewer are the noticeable players. When you have a dynamic and explosive point guard as Russell Westbrook and a premier scorer in Kevin Durant, there is no reason for any fan or players on the team to panic.
These two are probably one of if not the best one-two punch in the league. Surely their are fans that are saying what if. I am speaking of James Harden. Harden was with the Houston Rockets last season and for few years was another scorer for the duo. Frankly, if Harden were still with the Thunder, they possibly could of gone deeper into the playoffs because Durant would of then had another scorer on his side.
It is what it is. Durant continues to become a huge threat and MVP type of player every season. His ability to create his own shot and get to the rim causes havoc and nightmares for teams. Durant is the teams best offensive player. A three time scoring champ, Durant last season nearly captured his fourth in a row after averaging, 28.1 points per game. Another achievement for this young player, he was the sixth player in NBA history to join the 50-40-90 club (50% field goals, 40% three-pointers and 90% from free-throw line).
When teams game-plan against the Thunder, it is more Westbrook and Durant. One player that has worked hard and his proving to be a threat of his own is that of Serge Ibaka. Ibaka is dubbed and looked at as a shot-blocker, not a scorer. Last season he set career highs in points and rebounds. He averaged 13.2 points and 7.7 rebounds. He also turned heads with his impressive field-goal shooting from the floor. He hit .586 from the floor which ranked him fourth in the league.
The Thunder has all the keys for another run into the playoffs and possibly another trip back to the finals. What everyone will be looking at though is how Westbrook will be when he comes back from that knee injury. Will he be the same player? Will he be tentative? We shall see.
Division Prediction: 1st
Portland Trail Blazers 33-49 (4th 2012-2013)
Subtractions: J.J. Hickson, Eric Maynor, Jared Jeffries, Luke Babbitt, Nolan Smith
Additions: C.J. McCollum, Robin Lopez, Dorell Wright, Mo Williams, Thomas Robinson, Allen Crabbe, Earl Watson
The Trailblazers finished fourth in the division last season while having arguably the worst bench in the entire NBA. LaMarcus Aldridge, Damian Lillard and Nicolas Batum last season had to do everything imaginable for this team. These three were the team. Once the bench was called on, everything went down-hill. They knew that something needed to be done this offseason to surround their three players with some role players. The team went out and brought in seven players that should boost their bench play.
Rookie of the Year last season Damian Lillard may have put some hope into this Portland team. The fans can breathe a short sigh of relief from what they got a chance to see from the young player last season. LaMarcus Aldridge is one of my favorite players in the league. His skill set is just tremendous for a big man. He continues to produce at such a high level every season, despite the lack of wins, he still goes out and proves to be the leader of this team. Seeming as the Blazers have made moves to surround Aldridge and others with role players, this could take a lot of burden off of the three trying to do so much and let everything just fall into place.
Going back to Lillard, he is the teams top playmaker. He is not your average point-guard whom looks to pass first, his take, shoot first. Don't take
his passing ability and what he can do on the floor because he is this type of guard. He did average just under seven assists a game last season. This year, I see this improving tremendously. He could possibly get to 8 a game with the players added and how the team has one season with Lillard and knows what his abilities are. Teams should not sleep on Nicolas Batum. With all eyes going to be on Aldridge and Lillard, Batum last season averaged 14.3 points, 5.6 rebounds and 4.9 assists. He was also the only player on the team that averaged at least one steal and block a game.
This team can be scary in this division and put heat on the others. I see them clicking this season with some key additions.
Division Prediction: 2nd
Utah Jazz 43-39 (3rd 2012-2013)
Subtractions: Paul Millsap, Al Jefferson, Mo Williams, Randy Foye, Jamaal Tinsley, Kevin Murphy, Earl Watson, DeMarre Carroll
Additions: Trey Burke, Richard Jefferson, Andris Biedrins, Brandon Rush, John Lucas III, Rudy Gobert, Jerel McNeal, Ian Clark
The Utah Jazz are coming off of a season in which they finished third in the division. They are the one team that made a huge change to their roster. Al Jefferson, Paul Millsap and Mo Williams seemed to be the building block of what the Utah Jazz was trying to become. With the three of them gone, the Jazz are back at square one.
This season, the Jazz are going to be very young. The future is bright for the team but we know what comes before things get getter. This season I can see the Jazz lose, and a lot of it too. With the lack of leadership on the team, this team will not be able to compete with the more veteran-savy teams in the league. Their mental state will be tested as their are going to be a lot more bumps than smooth roads this coming season.
The Jazz did add some veterans to their team bringing on Richard Jefferson, Andris Biedrins and Brandon Rush. Even with these three, you have to come to wonder whom they will get the bulk of their scoring from. As of right now, their best offensive choice is Gordon Hayward. Last season he was third on the team averaging 14.1 points per game while also hitting 41% from beyond the arc.
All eyes will indeed be on the teams first round pick in Trey Burke. Burke made a name for himself while in Michigan as he looks to now be the starting point guard on opening night for the Jazz. One area that Burke excels as it pick-and-roll situations, he is very efficient. Given the history of the Utah Jazz, Burke looks to be right in his wheelhouse with the Jazz.
With a deplete roster and some additions, this team again will be tested through-out the season.
Division Prediction: 5th