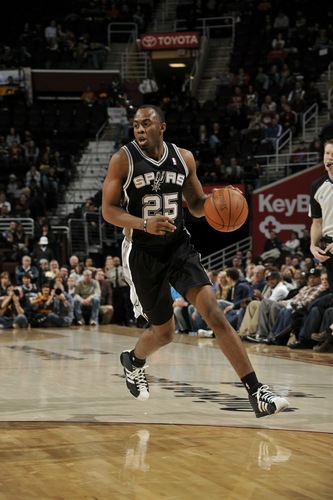 He's one of the most vocal NBA players on Twitter, and last week Phoenix Suns forward Jared "JMZ" Dudley took some time to talk about the pick up games he's been playing with San Antonio Spurs guard James Anderson. Dudley tweeted:

"Great 1st day of Workouts.. Work out with Spurs Rookie James Anderson, great young prospect..Played picked up and I'll I do is Win!!! Lol".
A few things pop out about this. First, Dudley clearly chooses his teammates well, because he apparently never loses at pick up games, so nice work JMZ. Second, Anderson has been a work out fiend this off season. He's been working out with both the young Spurs like Danny Green as well as guys like Dudley. This is critical because Anderson wasn't in the best game shape coming back from his foot injury last spring.
With George Hill jettisoned to Indiana and Gary Neal focusing more on being a backup point guard, Anderson looks to be Manu's primary backup at shooting guard this season, so working with other players like Dudley will only increase his confidence for the coming season.