In part one of the season preview of the San Antonio Spurs' upcoming 2012-2013 season, we looked at seven of the Spurs' 14 players. Those
players were Tony Parker, Tim Duncan, Manu Ginobili, Kawhi Leonard, Boris Diaw, Danny Green, and Gary Neal.
In this continued preview, we'll be looking at the other seven players on roster and some of the team's strengths and weaknesses heading into the season on Halloween night.
The 14 on roster – Part two
8. Stephen Jackson – Jackson is one of those players on the roster who is also getting up there in age, but his aggressiveness and enthusiasm aren't showing any sign of decline. On Friday, he scored 16 points against the Washington Wizards in a variety of ways: shooting from the outside with his very smooth jump shot, attacking the rim, and drawing contact to earn points at the free throw line.
On the bench and on the floor, Jackson is still that same guy who is the team's cheerleader. He's constantly full of energy whether you watch him wave his towel around on the sideline or go clap a guy's hand when a timeout is called. Jackson is the constant reminder that the Spurs won't play "soft" so long as he's around.
Jackson is in a contract year and most would expect him to be involved in some sort of trade should a scenario come into fruition, but I don't feel that the Spurs feel they'd need to move him. Jackson has shown his unwillingness to play and listen to most coaches aside from coach Popovich, the Spurs and Jackson are a match that just seems to work.
9. Tiago Splitter – On Sunday, our own Jeff Garcia projected Splitter to be a player most fans should keep an eye out for since this is the big man's third season with the Spurs. Will this be Splitter's year he shows he can be a dominant player in post? It's unlikely from my perspective. After watching Splitter over the last two seasons with the Spurs, and over the last three years in the summer time with Brazil, I think one can summarize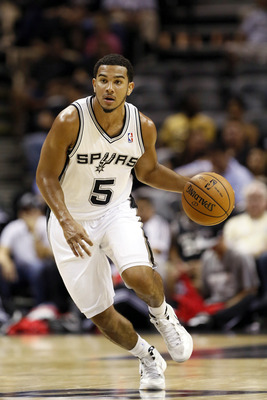 his play as a really good pick-and-roll offensive player who can also be gritty on defense from time to time.
After looking at his numbers with his former European teams in the past, Splitter was never the "Tim Duncan" type of post player who you could throw the ball into the paint to, and he'll find a way to score with classic post moves. Splitter scores in the paint off spins from the defending person's body, by using physical force, and of course, by finishing at the rim in the pick-and-roll.
It's not to say Splitter can't have a huge season, but the numbers and his play over the last two seasons have shown he is who he is. I'm not sure he'll ever be that dominant post player you can throw the ball into in the paint, but one thing he can work on is improving his defense.
Splitter's height alone makes him a good option to throw out on the floor with Duncan, two 6'11" big men; the only problem is Splitter's inability to shoot a jump shot, his inconsistent shooting at the free throw line, and his defensive lapses from time-to-time. If he can somehow figure a way to brew some chemistry with Duncan on the defensive side of the ball, the Spurs could have a valid frontcourt with some height.
10. Patty Mills – Judging by what we saw in the preseason, it's hard to project what type of season Mills will have. If Neal has locked up the backup point guard position, then Mills might only see floor time on nights when guards are being rested or the Spurs have a large lead or deficit.
However, this summer in the Olympics might have been an opportunity for Spurs head coach Gregg Popovich to find a way to use Mills in a consistent role. With Australia in the summer, Mills was actually Australia's shooting guard where he led the team in scoring. In the Spurs' first preseason game against Siena, the Spurs ran an Australian-similar formation in which Tony Parker was running the point, while Mills was playing the shooting guard position. Putting Mills at the shooting guard position is a defensive liability, but offensively it can be a benefit that can result in a 5-10 point increase on the scoreboard.
11. DeJuan Blair – His jumper improved in the preseason, but the form doesn't look like it hasn't, overall Blair is back. Out on the floor, he still looks like a defensive liability as evidenced against the Washington Wizards on Friday, but offensively he's still showing the same offensive scoring threat he can be in the open court and in running the pick-and-roll.
It's tough to project what type of season Blair will have because he could either have a steady backup role with the team, or go games without playing at all.
12. Matt Bonner – Some fans might have preferred to see what Eddy Curry or Josh Powell could have done with Bonner's minutes this season, but the "Red Rocket" is once again back for another season. Yes, he missed all eight of his shots in the preseason and failed to score at least one point, but don't be surprised to see Bonner out on the floor on occasion because aside from Boris Diaw, he's still the only other Spurs big man who can stretch the defense.
13. Nando De Colo – Because of his ability to play both the point and shooting guard positions so fluidly, along with knowing a good chunk of the offense, I think De Colo might be a player who earns minutes when either a major contributor is being rested, specifically Ginobili, or as Andrew McNeil of 48 Minutes of Hell called him, "a garbage time all-star."
14. Cory Joseph – You look at the great summer Joseph had in running the Summer League team in Las Vegas and you start to feel bad for the guy. He's a player who has really improved both in his shooting, decision making, and of course he's still a pest on defense. Unfortunately though, Neal and Mills are still in his way of earning minutes.
Joseph will get some minutes either when a starter like Parker is being rested, or when the team is up or down 20 points, but come playoff time, I still think Joseph needs to have a spectacular season when he plays in order to avoid being the guy in the suit and tie each night.
Strengths of the team
Starting Five: Aside from the Los Angeles Lakers, the Spurs have a very capably productive starting five unit on the floor. Now with the maturation of Kawhi Leonard, and the promise of a more comfortable looking Danny Green, the Spurs have at least four players in their starting five who can
attack the basket, or shoot from behind the 3-point line besides Duncan. With Parker, Duncan, and Leonard being the three players who can run the offense, Green can earn points by making cuts to the basket or shooting from the outside, while Diaw on occasion will also take his man to the basket and attempt to score.
Depth: Last season, the Spurs with this same team, were able to win 20 games in a row which included scenarios where they rested their starters or all of the "Big 3" on occasion. The team's depth should continue to allow coach Popovich to rest his players without fear of losing games to under-average teams. This amount of depth and being able to rest players will also be good for the younger players like Leonard, Green, De Colo, and Joseph, as they will only continue to grow with more time on the court.
Speed: On Friday, I'm not sure how many outlet passes Duncan threw to a player out in the open court, but there were a lot. That trend should continue this season as the Spurs' speed and fast-break style of play is something that has been successful in the regular season. With 82 games, teams don't have the time to slow the Spurs down like the Thunder were able to do after two games in the Western Conference Finals. As I said on Sunday's Sports Roundtable powered by Project Spurs, the Spurs are the ideal regular season team that is capable of winning 60 or more games this season while still maintaining their health going into the playoffs.
Perimeter defense: When the lineup of Leonard, Jackson, and Green are on the floor together, it's one of the most versatile defensive lineups the Spurs can put on the floor. This type of lineup will be good against teams with athletic wing players like the Miami Heat.
Weaknesses
Backcourt defense: With as much positives that were just listed above, there are still two glaring weaknesses with the team. The first is their backcourt defense. In last season's playoffs against the Thunder, the Spurs had a difficult time limiting Russell Westbrook, James Harden, and even on occasion, Thabo Sefolosha. Yes Parker averaged over one steal per game, but he's not a big physical guard who locks in on defense. Ginobili is getting up there in age and still uses his gambling techniques on defense. Then the bench backcourt defense is what makes most fans sweat. Neal isn't an impact defensive player and neither is Mills, so stopping the guards in the backcourt might continue to be a problem the Spurs struggle with this season.
Interior defense: Finally, with only Duncan being the most solid line of defense in the paint as addressed in part one on Monday, the Spurs still don't seem like a team that can protect the rim either from an attacking player, or post presence.
This has already been evident against the Houston Rockets in the preseason as Omer Asik looked like a dominant force in the paint on his way to scoring 13 points and grabbing 11 rebounds against the Spurs. The problem was also evident on Friday as Blair and Bonner had trouble defending the Wizards' Jan Vesely who scored nine points in about six minutes in the second quarter.
The Spurs are primed for another good regular season in which it wouldn't be surprising to see them win the number one seed in the West once again, but come playoff team when the pace of the game slows down and opposing teams can really pick you apart, their growth from within will have to really show its value.